State of Public Healthcare — II
Patients in search of a doctor
A.J. Philip
Tribune News Service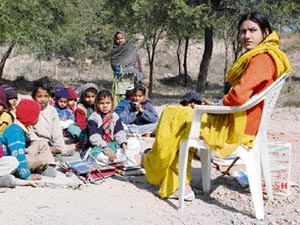 Mid-day meal is an alien concept in this single-teacher government school. — Photo by writer
Chandigarh, February 4
In Punjab, any reason would serve the purpose of a langar. At Miyapur Changar, a langar was in progress when we reached there. People in hundreds were enjoying the sumptuous fare.
The occasion was the death anniversary of a noble son from the area who became a martyr when the Sikhs fought against the Moghuls. Nobody could enlighten us about the warrior except that the people religiously organised a langar in his memory every year.
It was with some difficulty that we extricated ourselves from their persuasions to partake of the langar. We wanted to reach the Tarapur Public Health Centre before the "doctor" left for the day.
As we were about to leave for Tarapur, which was 4 km away, we accosted Vidya who was in her late fifties. She had her two-year-old grandson Kulbir on her hip. She was panting.
Kulbir had been ill for a few days. "He has high temperature. I thought it would be risky not to show him to a doctor", she said. I touched his forehead. He had indeed high temperature.
Vidya was tired because she had to walk all the way from Majri Colony where she lived. Ten kilometres was not a small distance to walk, particularly when she had to carry a sick child. Life had always been tough for the residents of Majri Colony. Their village was virtually cut off from the rest of Punjab. If a villager fell seriously ill, he would have to be carried on a cot through a footpath for as long as 6 km, i.e., till the party reached Tarapur, which again did not have a bus service.
Come to think of it, Majri Colony, which was not more than 35 km from City Beautiful, was still in the palanquin era. Except mobile phone signals, there were no signs of modernity in the village where people eked out a miserable existence.
Vidya was in search of a doctor but she had no clear idea where to go or whom to consult. There were some private medical practitioners in the area, whose qualifications were, however, suspect. "They are quacks. There is not a single MBBS doctor doing private practice in the area," said Babu Ram.
Vidya would finally reach a quack who might, hopefully, succeed in treating her grandson. Physical exhaustion had made a toll on her. The grandmother rued the fact that she had only six daughters and her son was the youngest. "If he was a little older, he, and not me, would have been carrying Kulbir", she reasoned.
While we were talking to Vidya, an old man from Majri Colony reached there. He, too, was in search of a doctor. "My wife is ill. I want to get medicine for her", he told us.
Even if he was able to meet a doctor at Miyapur Changar, how he would prescribe medicine without seeing the patient, I wondered. He was helpless as he did not have the means to bring his wife on a cot engaging at least four people for the purpose.
We could only show sympathy to those two people from Majri Colony. Hardly had we travelled 2 km when we reached a dead-end. The apology of a road that we had been driving on had become un-motorable.
Tarapur was 2 km away and we decided to walk. On the way we could see a couple of check dams built on the dry rivulet with World Bank assistance a few years ago. We soon reached the Government Elementary School.
The school had a new building but the teacher, Manjit Kaur, who was in her bridal finery, preferred to take the classes in the open. The students, too, seemed to enjoy the sun. She was the sole teacher there. The panchayat had just employed her to take classes, but she did not know how much salary she would eventually get. "Maybe, Rs 1500", she conjectured.
There were 28 students in three classes but Manjit Kaur taught all of them together. No mid-day meal was ever served in this school where children who could afford brought their own food from home.
In sharp contrast was the Government Primary School at Tarapur, just a kilometre away, where its 41 students and two teachers just had their mid-day meal when we reached there.
The Tarapur PHC was already closed when we reached there at 1 p.m. A flight of steps led us to the Centre located in the "dharamshala" building. "The doctor has just left the PHC," said the neighbours as if in a chorus. They seemed to have a good opinion of the "doctor".
But when we asked who the "doctor" was, none of them could give us his name. All they could tell us was that he was a turban-wearing Sardar. Kamal Kishore, who accompanied us, insisted that no doctor ever showed up there. Our inquiries at the Khizrabad mini-PHC later revealed that the "doctor" was actually a "compounder". Why blame the villagers, they had never seen the actual doctor posted there.
To be concluded