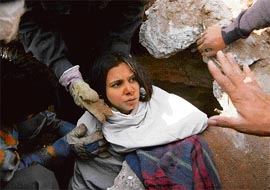 Rescue officials from the Ahmedabad Fire and Emergency Services rescue injured Sunita Lakhani who was stuck for more than 28 hours in the debris of Hotel Shakunt, in Ahmedabad, on Monday. At least 10 persons were killed when the hotel building collapsed on Sunday. — AFP
National Anthem Row
SC rejects plea against Murthy
New Delhi, February 4
The Supreme Court dismissed a petition against IT wizard N.R. Narayana Murthy for allegedly "insulting" the National Anthem by not following required protocol when it was played at a function of his company on April 8, 2007, in the presence of then the President A.P.J Abdul Kalam.
Cong, CPM flay attacks in Maharashtra
New Delhi, February 4
The Congress and the CPM have condemned violence in Mumbai by workers of the Raj Thackeray-led Maharashtra Navnirman Sena (MNS), saying that such incidents were divisive stunts, which exposed lack of any concrete political programme.
Film fraternity indignant at Raj's outbursts
Mumbai, February 4
The film fraternity today reacted with shock and indignation to Raj Thackeray's offensive against Amitabh Bachchan and North Indians warning that "dangerous sentiments" were being whipped up to serve "personal agendas."
Maya seeks Centre's intervention
Lucknow, February 4
Describing Maharashtra as a case of break down of the constitutional machinery, Chief Minister Mayawati today demanded the central government to intervene as the Maharashtra government had failed to check north Indians becoming the target of Raj Thackeray's Maharashtra Navnirmal Sena (MNS).
Two of culling team show 'infection' symptoms
Kolkata, February 4
Two members of the culling team, who were admitted to hospital, in South 24-Parganas have shown signs of suspected bird flu infection while fresh chicken deaths were reported from neighbouring Howrah city and culling operations on in some affected areas.
'84 Riots
Sikh leader refuses to appear before CBI
New Delhi, February 4
A Sikh leader today refused to appear before the CBI for recording his statement in the 1984 anti-Sikh riot cases saying the agency was working under "pressure" and demanded replacement of the team probing the carnage.
SC shifts case against Hussain to Delhi
New Delhi, February 4
The Supreme Court today declined to pass a blanket order on painter M.F. Hussain's plea for confining all future litigations relating to the "nude" painting of Hindu Gods and Godesses to courts in Delhi only, but ordered transfer of such a pending case from Maharashtra to Patiala House courts here.
Phone call lands innocent in jail
New Delhi, February 4
Just a call from a cell phone of an unknown person cooked the goose for an innocent West Bengal-based resident Altaf Ansari. He got branded not only as a terrorist of Harkat-ul-Jehadi Islamia (HuJI), but was tainted as a mastermind of UP serial blasts in November last year.
EU panel on climate change in India
New Delhi, February 4
An official delegation of the European Parliament's Temporary Committee on climate change is here as follow-up to the launch of international negotiations for a post-2012 framework on climate change at the UN conference in Bali.
UN project to connect Punjab with Bengal
Dehra Dun, February 4
The United Nations Economic and Social Commission for the Asia Pacific (UNESCAP) has sanctioned $ 26 billion Asian Highway (AH) project whose Indian stretch will connect Punjab with the North-East and West Bengal.
UP Police Job Scam
Maya again seeks CBI probe
Lucknow, February 4
Chief Minister Mayawati today once again sought to hand over the task of punishing the guilty in the police recruitment scam to the CBI. Her government had revoked the appointment of 18,884 police personnel following an inquiry that found massive irregularities
National Rural Employment Guarantee Programme
All dists to be covered by April
New Delhi, February 4
Keen to bring greater transparency in the National Rural Employment Guarantee Programme, the rural development ministry wants all wages to be paid to the beneficiaries through saving accounts in banks or post offices.
Kaziranga: Panel for young wildlife force
Guwahati, February 4
A high-powered committee set up by the Assam government to find ways to fight growing threat of rhino-poachers in the Kaziranga National Park, a UNESCO World Heritage site, has recommended for better cooperation between wildlife staff and the state police force to tackle well-equipped gangs of poachers that may have links with insurgents.
Babbars approached Naga groups for arms: militants
New Delhi, February 4
The Babbar Khalsa International militants, arrested in connection with the blast at a cinema hall in Ludhiana in Punjab, have told the investigators that they had approached Naga outfits for the supply of arms and ammunition.
'Aviation school management overhauled'
New Delhi, February 4
The ministry of civil aviation (MCA) today clarified that the Carver Aviation Academy located in Baramati,the constituency of agriculture minister and NCP chief Sharad Pawar was re-started after its management was overhauled.
Third highest bridge in Asia opens in Sikkim
Lachen (North Sikkim), February 4
Sikkim Chief Minister Pawan Chamling today inaugurated the 170-m-long Bansoi bridge, costing around Rs 8.87 crore, along north Sikkim highway near Lachen in north Sikkim.



Videos
Actress Urmila Matondkar celebrates her birthday
(56k)
Ash may form her own production house
(56k)
3 elephants killed by speeding train in Tamil Nadu
(56k)