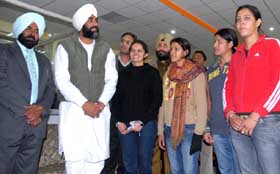 Shooting stars:

Punjab finance minister Manpreet Singh Badal flanked by Sports Director Pargat Singh (to his right) and the international shooters from Punjab at the 1st All India Women Air Weapons Championship on Tuesday. The event is being held at Badal village in Muktsar district. — Tribune photo by Malkiat Singh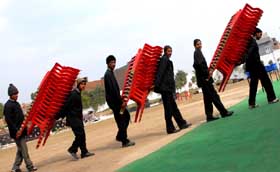 Chairmen!

The workers remove chairs after a function held at Barnala road in the city. — Tribune photo by Malkiat Singh
Janta Express Jumps Red Light
Train driver suspended
Bathinda, February 5
Taking serious note of the alleged mistake of ignoring red signal at the Kotli village halt on Monday night by the driver of the Delhi-Ferozepur Janta Express, the railway has suspended the driver in question.
All work and no play can lead to Board blues
Bathinda, February 5
With the countdown to the dreaded Board exams having begun, worried and jittery faces of students as well as their parents are now visible all around.
CDPO suspended for irregularities in duty
Barnala, February 5
Acting on the recommendation of Barnala's deputy commissioner (DC) R.L. Mehta, the social security and child development department, Punjab, has suspended the child development and project officer (CDPO), Barnala, Chandar Kanta, with immediate effect.
Privatisation of ITI, Barnala
Students block traffic in protest
Barnala, February 5
To oppose the privatisation of the ITI, Barnala, the Punjab Radical Students Union and the Punjab Students Union blocked traffic at the ITI Chowk, Barnala, for over an hour here today, causing great inconvenience to commuters. The ITI Chowk is situated at the cross-roads of the Barnala-Ludhina and Barnala-Sangrur highways.
Destination weddings catching up in Punjab
Bathinda, February 5
Sunset, sunrise, underwater, mid-air, jewel and royal Victorian themes are much in vogue for weddings these days, especially for non-resident Indians (NRIs), who are ready to go to Jaipur, Hyderabad and even to favourite Bollywood locales like Mauritius and Malaysia, that too at any cost.
Female Foeticide
Students campaign for the girl child
Abohar, February 5
Concerned over the alarming decline in sex ratio all over the state, the Gopi Chand Arya Mahila College has launched a comprehensive campaign against female foeticide to make the society aware of the menace.
High Court quashes FIR against power theft accused
Abohar, February 5
The Punjab and Haryana High Court quashed the FIR, which had been registered at a city police station here against Rajesh Gupta, a social activist of the Nai Abadi locality for alleged power theft.
Four get 5-yr jail term for attempt to murder
Barnala, February 5
The local court of additional sessions judge Archana Puri here today sentenced the four accused in an attempt to murder case to five years of imprisonment. The court also imposed fine on the accused. If the accused failed to deposit the fine they would have to undergo additional imprisonment.
Proprietary land rights: Applications should reach by Feb 28
Ferozepur, February 5
In order to grant proprietary rights to the farmers tilling government lands for past some time, the applications would be accepted by the state government till February 28, 2008, informed Sukhpal Singh Nannu, chief Parliament secretary (Revenue), while addressing the gatherings at Gatti, Habib Ke, Rajiwala, Nihalewala, Kahne Ke Ahal and Basti Ahmewali villages.
Sukhwinder adjudged fastest
Abohar, February 5
Anju Bala, of Jhamku Devi Senior Secondary School located in the part of the state that borders Rajasthan, topped in 400 and 800 metre races during the 3rd Annual Inter- School Athletic Meet held on Tuesday in Bhag Singh Hayer Khalsa Collegiate Senior Secondary School in Kala Tibba village near here.
Rs 1.5 lakh looted
Bathinda, February 5
An accountant of a contractor, Aman Goyal, lodged a complaint with the police alleging that he was intercepted while he was on way to his office and looted off Rs 1.5 lakh. The miscreant also assaulted him with a sharp-edged weapon. The incident took place at Dhobiana road, here today.