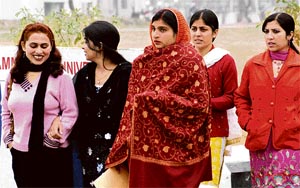 Girl students of Jammu University wear warm clothes to protect themselves from intense cold on Tuesday. — Tribune photo by Anand Sharma
Red alert sounded in Rajouri
Rajouri, February 5
The twin frontier districts of Rajouri and Poonch received fresh snowfall today throwing the normal life in many areas out of gear. However the fresh snowfall did give the residents the much needed respite from the cold wave conditions that has swept North India.
2 Pak militants killed after 24-hr operation
Rajouri, February 5
The Army gunned down two Pakistani militants at Bindigala in Sunderbani sector here this evening. Defence sources said troops of 18-JAK Rifles killed these militants, believed to be Pakistanis, after an operation that lasted more than 24 hours.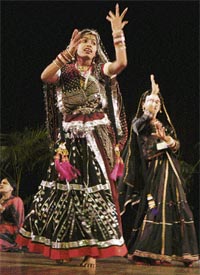 Artistes perform during the Nehru Yuva Kendra's function at the General Zorawar Singh Auditorium in Jammu University on Tuesday. — A Tribune photograph
Pak separatists favour Geelani's support
Jammu, February 5
The separatist establishment in Pakistan is in favour of not only bringing about unity among various separatist groups, but also win back the support of Syed Ali Shah Geelani, chief of the Tehrik Hurriyat Conference.
PM asked to involve Hurriyat, other groups on Kashmir
Jammu, February 5
In view of the upcoming Assembly elections in the state, the People's Democratic Party have urged the Government of India to involved Hurriyat Conference and other political groups in the process of finding a resolution for the long pending Kashmir dispute.
Kashmir Solidarity Day in Pak now a subdued ritual
Jammu, February 5
Eighteen years ago on this day, late Benazir Bhutto, the then Prime Minister of Pakistan had descended on Pakistan-occupied Kashmir to observe the Kashmir Solidarity Day and express solidarity with the Kashmiri people, who had waged a war for "independence" against India.
Industry gets a govt boost
Jammu, February 5
Various steps have been taken under state and Centre-sponsored schemes to give fillip to industrial growth in Jammu and Kashmir, the minister for industries and commerce Nawang Rigzin Jora said on Monday.
Revolutionary step to empower poor women
Udhampur, February 5
The district Horticulture Department has taken a revolutionary step to empower women belonging to weaker sections. In Udhampur and adjoining localities, 50 women have been trained in fruit preservation to start their own ventures and to generate income to help uplift their families.
There exists a flood-prone Suicide Colony
Rajouri, February 5
Believe it or not, there is colony named as "Suicide Colony" in the heart of this frontier township. In fact, this colony, also known as Bela Colony, came up because of slow migration of people from the semi-urban areas after the beginning of militancy in 90s.
Jawan commits suicide
Udhampur, February 5
While the Army authorities claimed to be have taken many remedial measures to combat stress among troops, one more soldier today allegedly committed suicide by shooting himself with a service rifle.
One killed, 2 injured
Srinagar, February 5
One person was shot dead by unidentified gunmen, while two boys were injured in an explosion in Kashmir valley, police sources have said. The police said Shabir Ahmad Bhat, a tonga driver from Saidapora, Sopore, was shot dead by unidentified militants on Saturday.
Cops, SPOs joined militant ranks
Jammu, February 5
Two policemen and 31 special police officials (SPOs) deserted police force and joined different militant outfits in Jammu and Kashmir during past 18 years of militancy, official sources said.
Cancer detection camp held
Jammu, February 5
Extending a helping hand to cancer patients and create awareness among people, the medicos of Acharya Shri Chander College of Medical Sciences and Hospital organised a free detection cancer camp at Bishnah.