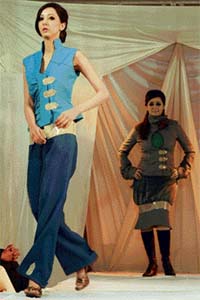 Models present creations by Pakistani fashion designers during a fashion show at a university in Islamabad on Saturday. The share of textile industry in the economy makes it the single largest manufacturing sector for Pakistan. — AFP
Indian killed during robbery bid in US
Silicon Valley, February 10
An Indian-American clerk at a famous chain store has been shot dead by unidentified gunmen during a suspected robbery attempt in Californias Vallejo city. Surinder Kumar, a 55-year-old clerk at a '7-eleven' store in Vallejo city, was shot during a robbery, since investigators found an undisclosed amount of cash missing from the register, the police said.
Three Madhesi parties form alliance
To intensify agitation in southern Nepal
Despite repeated calls from the Nepal government for peaceful negotiations, three major Madhesi parties — Madhesi People's Rights Forum, Tarai-Madhes Democratic Party and Sadbhavana Party — on Saturday decided to intensify their agitation in southern Nepal by constituting an alliance, named the United Madhesi Democratic Front.
EC ultimatum to Nepal govt
Says create conducive poll atmosphere
Just 59 days before to go for the Constituent Assembly election, the Chief Election Commissioner in Nepal issued a three-day ultimatum to the ruling seven-party alliance and interim parliament to resolve all existing political and security issues to hold the election on the slated date of April 10.
Turkey lifts varsity headscarf ban
But people protest against move
Dubai, February 10
In a significant development that is feared to alter the secular nature of Muslim-predominant Turkey, its parliament lifted a ban on women wearing headscarves at universities.
Rocket attacks: Israeli PM threatens action
Jerusalem, February 10
Israel Prime Minister Ehud Olmert today threatened to target all Palestinians responsible for cross-border rocket attacks from the Hamas-controlled Gaza Strip, but warned against a knee-jerk Israeli military response.


SRK not interested in Hollywood
Berlin, February 10
Shah Rukh Khan said he had no plans to seek a career in Hollywood, and suggested that western cinema should learn from Bollywood the art of storytelling rather than relying too much on special effects.
Shah Rukh Khan poses with actresses Maria Schrader from Germany (left) and Nigerian Kate Henshaw-Nuttall prior to a discussion themed "Love International" on the sidelines of the 58th International Berlinale Film Festival on Sunday. — AFP photo

Nicole's swimsuit auction buys 9 cows for poor Indians
Stockholm, February 10
A swimsuit left at a Swedish pool by Australian movie star Nicole Kidman was sold at auction to buy cows for poor families in India. "The swimsuit went to the highest bidder for $ 2,500. That's enough to buy nine cows," the suit's previous owner Zlatko Nedanovski, 32, told AFP.


Kristina Warming (left) and Bernt Dehlgren (right) of the charitable group Bistandscenter in Eslov, Sweden, post with Zlatko Nedowanski who donated the swimsuit Nicole Kidman left at a Swedish pool in 2002. The group auctioned the swimsuit to raise enough money to buy nine cows for poor families in India. — AFP photo
Now supercomputer SUGAR to detect black hole
New York, February 10
Scientists are developing a new supercomputer, which they claim will help them listen to cosmic symphony-the sound of a celestial black hole. The supercomputer, dubbed SUGAR, is being assembled by the scientists at Syracuse University's Department of Physics.
Lawyers to boycott courts till Feb 18
Islamabad, February 10
The Pakistan Bar Council has announced a countrywide boycott of superior and subordinate courts till February 18, the polling day, council vice-chairman Mirza Aziz Akbar Baig said while addressing the all-Pakistan lawyers' convention.
Bhutto's last words: To condole PML workers' deaths
Former premier Benazir Bhutto's last wish was to talk to Nawaz Sharif and condole the deaths of four Pakistan Muslim League-Nawaz workers killed in a rally, Naheed Khan, Benazir's political secretary told Geo News.
US Awards
'Juno', 'No Country' bag screenwriter awards
Los Angeles, February 10
As Hollywood's screenwriters gathered to hear details of a contract to end their three-month-old strike, they also gave their top film writing awards to comedy "Juno" and drama "No Country for Old Men."
Fire at London's Camden market
London, February 10
A huge fire swept through London's Camden market late last night, damaging shops and a famous nightspot in one of the British capital's most popular tourist districts. London Fire Brigade said it had sent 20 fire engines and 100 fire-fighters to tackle the blaze at the market in north London.