At The Altar Of Knowledge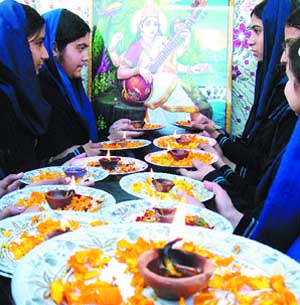 School students perform Saraswati Vandana to celebrate Basant Panchami in Amritsar. — Photo by Vishal Kumar
Extension Demand
'2009 shouldn't mean end of spl industrial package for state'
Amritsar, February 12
Taking an exception to the statement made by state minister for industries Ashwani Kumar that by the end of 2009 a special industrial package would be withdrawn from all states except Jammu and Kashmir and the north-eastern states, the Amritsar Vikas Manch (AVM) on Tuesday urged the Prime Minister and the state minister to take personal interest for granting an industrial package for Punjab on the pattern of its neighbouring states.
'Punjabis' heart weak'
Amritsar, February 12
Punjab is reporting an 'alarming rise' in heart ailments. This was stated by Dr Rohit Mody, senior cardiologist during a free heart and diabetes check up camp organised by Fortis Hospital here. Specialists from Escorts Hospital conducted free cardiac camp.
Sidhu gives Rs 20 lakh for Ayurvedic college
Amritsar, February 12
BJP MP Navjot Singh Sidhu laid the foundation stone of the building and hostel of Ayurvedic Medical College here. He announced a Rs 20-lakh grant from his MPLAD fund for the college building.
NRI alumnus donates Rs 5 lakh to GNDU
Amritsar, February 12 Johan Singh Gill of California, USA, donated Rs 5 lakh to Guru Nanak Dev University to sponsor Shaheed Bhagat Singh Memorial Sports Trophy, which would be awarded by the university at its annual sports function.
Bangla teen held while trying to cross over
Amritsar, February 12
Mohammad Bilal (19), a Bangladesh national was nabbed by the Border Security Force jawans when he was trying to sneak into the Pakistan side by crossing the border fence illegally and was later handed over to the Attari police station.
Road race
Amritsar, February 12
As many as 2,500 students from 43 schools participated in the road race organised by Ryan International Sports Club, here. The race was open to boys and girls in three categories, under-12, 14 and 16. Prabhakar Senior Secondary School won the race while Shri Guru Arjun Dev Boarding School and Khalsa Senior Secondary School remained first and second runners up, respectively. A cash prize of Rs 30,000 was distributed amongst first six positions in various categories. — OC