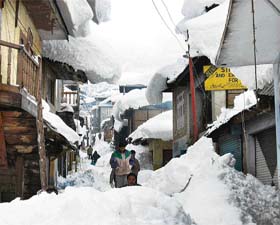 People walking through a snow-covered street in Bhadarwah where the ground floors of the houses were covered with snow following a heavy snowfall in Jammu and Kashmir on Wednesday. — PTI photo
3 more die of cold in Doda
Udhampur, February 13
Although various teams were deputed to different areas to assess total loss, initial reports said 84 houses had been damaged in snow fury in Doda district alone, besides washing away of large foot tracks and roads.
Azad visits snow-affected areas
Jammu, February 13
To take the on the spot assessment of the situation arising due to the heavy snowfall in the upper reaches of Kathua district, Chief Minister Ghulam Nabi Azad today visited snow-affected areas in the upper reaches of the district.
Muslim migrants' colony plan draws flak, Azad denies report
Jammu, February 13
The Jammu State Morcha (P) has strongly condemned reported move of the Congress-led coalition government to raise a migrants' colony for Muslims on 623 kanals of land on the outskirts of Jammu city.
HC issues notice to Azad
Jammu, February 13
The Jammu and Kashmir High Court has issued notices to state's Chief Minister Ghulam Nabi Azad, chief secretary and four other top officials for setting up of Kashmiri Muslim migrant colony on a forest land here.
Azad hails Soz's appointment
Jammu, February 13
Chief Minister Ghulam Nabi Azad has welcomed the appointment of Union minister for water resources Saifuddin Soz as president, Jammu and Kashmir Pradesh Congress Committee. The Chief Minister today described Soz as an able politician whose rich experience would benefit the party in the state.
People asked to 'repress' Valentine feelings
Srinagar, February 13
Valentine's Day, which has invited strong reactions from religious and social organisations, would be a different occasion here tomorrow as the women's outfit, Dukhtaran-e-Millat, has already warned the concerned business community against contributing in these celebrations.
Unlike basmati, India, Pak may disagree on pashmina patent
Jammu, February 13
When Americans tried to get the patent over the basmati rice, India and Pakistan presented their case jointly at the World Trade Organisation to upset the American applecart. The two countries held a series of negotiations on the issue.
Power theft go unabated, faulty meters still exist
Jammu, February 13
Moving at a snail's pace the installation of tamper-proof electronic meters under Accelerated Power Development and Reforms Programme has to some extent checked rampant power pilferage in the electricity-deficit state, yet the ghost refuses to die down.
Cleanliness keeper, MC, itself housed in filth
Jammu, February 13
A visit to the town hall that houses the office of the Jammu municipal corporation is enough to expose the tall claims of the MC, which promises to provide better living environment to the residents of state's winter capital.
Loran, Mandi residents allege govt apathy
Poonch, February 13
Residents of snow-bound Loran and Mandi areas of this district have been left fretting as the authorities have adopted casual approach to attend to their miseries. Although rescue and relief operations have been launched on "war-footing" in Doda, Kishtwar and other areas, this belt has allegedly been neglected by the state government.
Infiltrators shift focus towards LoC areas
Jammu, February 13
Militants had shifted their focus of infiltration towards bordering Rajouri and Poonch districts of Jammu region after heavy snowfall blocked their "secret entry points" in the valley, intelligence sources said.
Thermal power project
Jammu, February 13
The Union Power Ministry would set up a 1,000 MW thermal power project in the state, which would be completed in three years.
BSNL users a worried lot
Jammu, February 13
The poor connectivity provided in the state by one of the biggest mobile service operator of the country has left its users a worried lot.