Investment row
Baig being criticised for all wrong reasons
Jammu, February 14
In the tumultuous political atmosphere in Jammu and Kashmir any well-meaning and well-intentioned move can always be misinterpreted. That seems to be exactly happening with Deputy Chief Minister Muzzaffar Hussain Baig's statement that the outsiders can always invest in the state.
Scheduled Tribe Status
Gujjar-Pahari row intensifies
Chenani (Udhampur), February 14
Two major ethnic communities in the state - the Gujjars and the Paharis - have already intensified their war of words against each other over the latter's demand for a Scheduled Tribe status.
Apple business hit hard by highway closure
Jammu, February 14
The closure of Jammu-Srinagar National Highway as a result of recent snowfall has hit the state apple business hard.
Inhabitants hopeful of tehsil status for Balakote
Balakote (Poonch), February 14
Even as the Sudhir Singh Billowria Committee, constituted by the Azad-led coalition government, is receiving the representations from people of various parts of the state for recommending new administrative units like tehsils, the people of this Niabat that existed as tehsil before 1965 are fighting hard to get it back the status.
Feb 17-22 event
Gulmarg all set to host National Winter Games
Jammu, February 14
With snow covered steep mountains slopes and lush green pine trees, the world famous hill resort of Gulmarg is all set to host fifth National Winter Games from February 17 to 22 in which more than 400 players would participate in various events.
More stranded taken to safety
Jammu, February 14
Indian Air Force choppers today airlifted 66 stranded passengers from Udhampur airfield to Doda district here following directions from the Jammu and Kashmir government, the officials said.
MUF leader joins PDP
Srinagar, February 14
A former leader of the Muslim United Front (MUF), Abdul Khaliq Haneef, who had unsuccessfully contested Assembly elections in 2002, joined the ruling Peoples Democratic Party (PDP) here today.
Sending Valentine love across border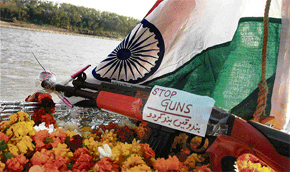 Jammu, February 14
A rubber tube decorated with flowers and messages of love was set afloat on Chenab for people in Pakistan on Valentine's Day by members of a political party in a Jammu and Kashmir town Thursday morning.


Activists of the Socialistic Democratic Party convey the message of love on Valentine's Day at Akhnoor bank of the Chenab. — PTI photo

'Impart managerial skills to women'
Jammu, February 14
Minister for social welfare Abdul Gani Vakil has directed the Women Development Corporation (WDC) to come out of the city confines and organise capacity building training programmes for women entrepreneurs in rural areas.
NC raps Baig on outsiders' issue
Jammu, February 14
Leader of the Opposition Abdul Rahim Rather today criticised the Deputy Chief Minister Muzaffar Hussain Baig for his reported statement that the outsiders could buy property in the state. Rather alleged that the People's Democratic Party (PDP) which Baig represents was hoodwinking the people of the state with its slogan of self-rule, while they have a sinister design to get the capitalists from all over the country and settle them in Kashmir, thereby uprooting the state subject and depriving them of their livelihood.
Ex-BSP man may float parallel party
Jammu, February 14
Dr Sat Pal, who recently quit the BSP after several differences surfaced between him and the followers of Mayawati, has begun wooing a large number of party men to his fold. Inside reports said BSP rebel leaders from Himachal Pradesh, Madhya Pradesh and people who had close relations with former BSP supremo, Kanshi Ram, were in touch with Dr Sat Pal for forming an organisation parallel to the BSP.
Change in DMU timing sought
Udhampur, February 14
Virtually fed up with the casual approach being adopted by the local railway authorities towards their problems, students from Udhampur have approached railway minister Laloo Prasad Yadav to change the departure time of DMU from this town.
Impart quality education: Minister
Jammu, February 14
Underlining the need of imparting quality education the minister for higher education, Gulchain Singh Charak, today said modern education and proper guidance would enable the youth to excel in the global market.
Reprimand Poonch SHO, say FCI staff
Jammu, February 14
Employees of the Food Corporation of India (FCI) have threatened to go on an indefinite strike if the state government failed to initiate a stern action against the SHO, Poonch, within 15 days.