A visit to the Pushpa Gujral Science City on the Jalandhar-Kapurthala road is a leap into the fascinating world of scientific phenomena. AJ Philip visits this wonderland in the hinterland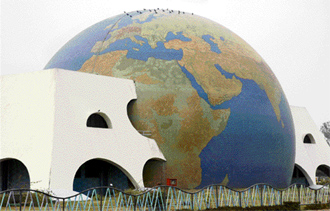 PASSENGERS, both children and adults, screamed as the Space Shuttle-like vehicle lifted off with unimaginable speed into space and they had close encounters with celestial bodies. Then it plunged into the ocean and the "passengers" came face to face with mountainous whales and menacing sharks.
Twentyfive lakh tiles have gone into the construction of the globe. — Photo by the writer

Vanishing ghariyals
More than 90 ghariyal deaths in the National Chambal Sanctuary in India has led ecologists to determine that the species is under severe threat and might be facing extinction. Ghariyals — often confused with crocodiles — are characterised by their long and thin snout and the "ghara" or pot on their head and eat only fish. They are one of the most threatened crocodile species and are classified as critically endangered by the World Conservation Union.
A town gone to the dog
The legend of a dog is an interesting diversion on a trip to a small town in Wales, says Anurag Yadav
Back in the old days travelling to the UK usually meant a trip to just London. The modern tourist now knows better. A weekend in Wales can be a very exhilarating experience. It offers as beautiful a holiday as one can ever aspire for. A holiday away from the hustle-bustle of the big city and close to nature. Indeed, Wales' countryside has surely to be one of the world's most beautiful ones.
Knockout effect of TV wrestling
Adolescents watching professional wrestling on television are more prone to violence, unsafe sex, and other risky behaviours, says a new study. The study led by Robert H. DuRant, Ph.D of Wake Forest University, Winston-Salem, NC, has found that as the frequency of watching wrestling increases, the rate of risky behaviours also goes up.
Bani sings the big tune
Prachi Desai, best known as Bani, is all set to make her film debut with Farhan Akhtar as co-actor. Manish Ramchandani chats up the actor
How does it feel when you are called Ekta's baby?
I think Balaji is one of the best production houses. I am in love with it as it was a place where I first worked as an actor at the age of 16.
The perfect Match
Will the coming together of Hrithik and Aishwarya in Jodhaa-Akbar create a new screen pair, asks Derek Bose
Bollywood's hugely hyped romantic potboiler Jodhaa Akbar is supposed to be the "most extravagant, ambitious and lavishly mounted love story" yet in Hindi cinema.
Small is beautiful
With Dus Kahaniyan receiving a not-too-bad response, Shoma A. Chatterji traces the trend in short fiction films
When Dus Kahaniyan reached the theatres, there was a lot of brouhaha around how 10 short films within the span of 100 minutes can throw up more entertainment and thrills than a long (yawn) feature film with a 120-minute footage.
Rising voices
Festivals like MIFF are bringing films that touch upon social concerns, says Ervell E. Menezes
The Mumbai International Film Festival (MIFF) for Documentary, Short and Animation Films is on at the National Centre for the Performing Arts in South Mumbai. This two-yearly event has weaned an audience of its own, call it opinion-makers, anti-establishment voices or a different view but it surely needs to be heard in a society guided mainly by its marketing and corporate forces.


Beauty from waste
Bengal craftsman Gopal Nandi's art-wares, produced out of cast-away material, are selling like hot cakes at Surajkund Crafts Mela, says C.D. Verma
In this world nothing goes waste. Everything has its value. What is needed is a discerning eye and expert hands to metamorphose the dross into the worth of an artifact. Ugliness is but skin deep. The business of art is to reveal the beauty underlying all things.
Coping with cancer
The five most common types of cancers in India are colorectal, lung, stomach, breast and cervix. Long and erratic hours at work, little exercise and unhealthy eating patterns are a fertile breeding ground for the disease, says Neeta Lal
Charge your mobile by just walking
University of Michigan scientists have found that a new energy-capturing knee brace has the potential to generate enough electricity from walking to operate a portable GPS locator or to charge a cell phone. Arthur Kuo, an associate professor of mechanical engineering at the university, has revealed that the wearable mechanism works much like regenerative braking charges a battery in some hybrid vehicles.