Mini-full
City girls trot up the corridors of popularity by slipping into minis & knee-length slacks
No skirting the issue, guys. Femmes of the world are giving a leg up to fashion by wearing minis that just donít reveal more than panache, and elegance. If you are finding it all too confusing, just look at Ananya Gupta. The undergrad allows minis to expose her to the heat of all the bashes. Still, no one can essentially blame her for wearing stuff thatís all too revealing. For, she dons style by putting on short denim skirts with knee-length slacks.

Photo by Pradeep Tewari
Fur-fetched
Sharp cuts, soft touch & interesting palette, itís time for a fluffy revamp of your wardrobe
A fave with designers, fur has for long perked up the sizzle quotient on the ramp.Interesting colours, dramatic cuts, varied treatments; there is no limit to the versatility of fur. And this winter, it werenít just the ramp scorchers who discovered its beauty, but city fashionistas too. Hereís a sneak peak at the furry delights that have been (and still are, for winter refuses to walk away) on city shelves.
Martian multi-taskers
City men score 10 on 10 when it comes to juggling multiple tasks together
Remember the story in Mahabharata, where Guru Dronacharya asked young Arjuna to focus only the on the head of the bird sitting on a tall tree while teaching him archery? He had a point. First of all, Arjuna was a man and men are not known for their multitasking ability. You do not even have to refer to scientific studies to fathom the gravity of the situation. For, arenít our moms back home doing the all multi-tasking ó cooking food, changing nappies of their new-born babies and attending phone calls at the same time, while dadsí focus is on a single thing (either the newspaper or the TV)?
Matka chowk
Power of Prayer
Last Sunday, I woke up to the sound of the morning ajaan. My initial reaction was that of utter chagrin. Surely, my early morning sleep was far more precious than diligent worship? However, as I lay in bed under the rajai Ė I reflected on the significance of what floated in with the misty air. I had the choice of staying angry over lost sleep or I could seize the moment to connect with a higher self myself. I chose the second option. Thirty minutes later, I felt much better about the world and myself.
Exhi-watch
Itís Trendz time folks!
Trendz Unlimited promises you a lot more than style and trends. If organisers Yukti Shankar and Inder Chhina are to be believed, they will bring to the city the latest in fashion scene along with a dazzler from the industry to jazz up the show. And this time it is Anita Hasanandani, known as Anjali of Kavyanjali ó to dine with the family who is lucky enough to win a lucky-draw contest.
Recipe for success
Nothing succeeds like self-help books when it comes to the cityís book lovers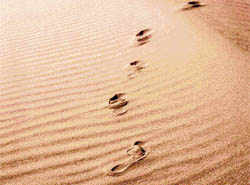 Looking at the ever-growing size of the self-help book sections in city bookstores, itís evident that the key to a successful life is not a secret anymore. People who have achieved it are more than willing to share their personal wisdom with the rest of world. And looking at the crowds in front of these shelves, we know there are takers for it. After all, when you see titles that promise Success in 30 Days or to make you Think and Grow Rich, and that too, from the people whoíve attained a name in life, the temptation to grab these books is too great to overcome.

Vision Mission
HIS is a cause that he likes to keep quiet about. For Rajesh Kumar who runs a jewellery shop in Sector 23 believes in acting rather than talking. He is on a mission to spread awareness and encourage one and all to pledge for eye donation. And he has been working towards it quietly for more than two decades now. He is not a part of any eye donation society or fancy club and his area of operation is his circle of friends and family.

Jodhaa Akbar
Watchable
A less talented director would have reduced an almost four-hour-long peep into the past to a costume drama. Ashutosh Gowarikar turns it into an engrossing fare. Ignore the allegations of historical distortions in Jodhaa Akbar. Forget that Rs 50 crore has been spent on the magnum opus.