Batting For Battered
BSM to become voice of farm labourers in Punjab
Nawanshahr, February 18
Making an oblique reference to the SAD protest rally to be held in New Delhi on February 26, Bahujan Samaj Morcha (BSM) president and former MP Satnam Kainth lamented that the political parties were only raising the voice of affluent farmers and industrialists.
Identity Crisis
Forum asks OIC to pay up
Hoshiarpur, February 18
Providing relief to Shakuntala Devi, a resident of Naushehra Pattan village in the district, the district consumers forum here headed by president P.D. Goel, has ordered Oriental Insurance Company (OIC) to pay Rs 50,000 along with Rs 1,000 as litigation expenses within one month to the complainant on account of personal accident insurance policy obtained by her deceased son Talwinder Singh.
Axe effect: 1,379 trees fall flat for a road
Pathankot, February 18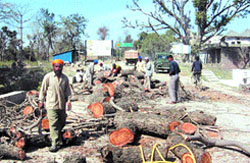 As many as 1,379 trees, many of them decades old, on the Pathankot-Haryal stretch of the Amritsar-Pathankot-Kullu highway have fallen prey to the widening of the road connecting Punjab and Himachal Pradesh.


Green cover pays price for development on the Pathankot-Haryal stretch. Photo by writer.
'Healthy youth' on SOI agenda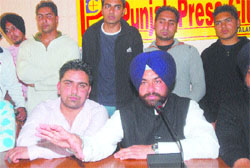 Jalandhar, February 18
To combat the rising incidence of drug abuse among the youth, the SAD-affiliated Students Organisation of India (SOI), has started a state-wide campaign. The "healthy youth, healthy Punjab" campaign not only aims at creating awareness among youngsters but also weaning them away from substance abuse.

Gurpreet Singh, national president of the SOI, addresses a press meet in Jalandhar. — A Tribune photograph
SSIs demand excise waiver
Jalandhar, February 18
The Laghu Udyog Bharti, an organisation promoting small-scale industries (SSI) in the country, has demanded enhancing the excise exemption limit on micro and the SSIs from Rs 1.5 crore to Rs 3 crore.
Highway crash leaves one dead, four injured
Nawanshahr, February 18
Pargat Singh, security personnel deputed with the former minister Partap Singh Bajwa, was killed on the spot and four others, driver Lakwinder Singh, Gurcharan Singh, Sukhwinder Singh and Dalip Singh, were injured when the vehicle in which they were travelling overturned after colliding with a car at Rakker Bet village, near Balachaur, on the Nawanshahr-Chandigarh road on Sunday morning.
Quack nabbed with prohibited drugs
Jalandhar, February 18
The district police nabbed a quack and seized prohibited drugs, only to be administered under medical supervision, from him at Shahkot here today. Shahkot DSP Diljinder Singh Dhillon told The Tribune that the quack, Balraj Kumar, of Havelli Patti village, was caught with some prohibited drugs, including some injections.
One kg opium seized, 3 arrested
Jalandhar, February 18
District police today arrested three persons on the charge of drug peddling and recovered one kilogram opium from their possession. Two youths identified as Raman and his brother Rinku of Pholariwal villages were caught with 500 gm opium at a naka on Jamsher Chachowal Road, falling under Paragpur police post of Sadar police station, police sources said.