Bus stand turns encroachment gallery
Jammu, February 21
The general bus stand of Jammu, which is the only interstate terminal of the state, is in a shambles as the entire area inside the stand have been encroached upon by hawkers and fruit sellers.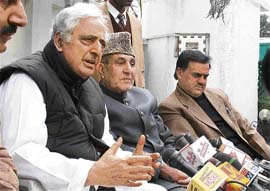 Former chief minister and patron of the People's Democratic Party addressing the media in Jammu on Thursday. — A Tribune photograph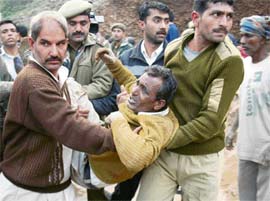 People shifting a person who was injured when an underconstruction wall fell on him at the chief minister's residence on Thursday. — A Tribune photograph
Pak Poll
Security agencies cautious
Jammu, February 21
Too much euphoria is being generated over the "revival of democracy" in Pakistan. However, this perception does not find favour with the security agencies here who are quite apprehensive about the new regime's policy on Kashmir. They feel the past history of the two major political parties, the Pakistan People's Party (PPP) and the Nawaz Sharif-led, Pakistan Muslim League (PML), has not been very positive.
Omar Abdullah embarks upon electoral odyssey
Jammu, February 21
Ahead of elections to the state Assembly, the National Conference president Omar Abdullah has embarked upon a long electoral expedition starting from Lakhanpur, the extreme end of the state.
Degree College Row
Cong workers plan revival of agitation
Udhampur, February 21
After maintaining silence for more than two months, Congress activists are gearing up to revive suspended agitation in support of a degree college for Majalata tehsil of Ramnagar area.
Highway mishap: Russian, security men among 6 killed
Udhampur, February 21
Six persons, including a Russian national and four security forces personnel, were killed while four others were injured in a road accident on the Jammu-Srinagar national highway near Chenanai, about 35 km from here this evening. The victims were travelling in a Tata Sumo from Srinagar to Jammu.
Azad inspects Siraj Bagh
Srinagar, February 21
Chief Minister Ghulam Nabi Azad inspected Siraj Bagh being developed as one among the largest tulip gardens in the world at the foothills of Zabarwan overlooking the Dal Lake here today.
Miserable plight of Indian security agents in Pak
Jammu, February 21
There seems to be no end to miseries of Masoodis of Beerwah village in Budgam district. Their flesh and blood Shaheen Parvez Ahmed Masoodi's sentence of 16 years of rigorous imprisonment in a Pak prison would end on February 26 but the family back home has not been getting positive response from the Union Ministry for Home Affairs.
Ex-Pak army man writing book
Jammu, February 21
Shahzad Khan, who had taken part in the Kargil war of 1999 as second lieutenant in Pakistan Army, now in custody of Indian security forces, is said to be writing a book on his experiences in the Army and later as a commander of a militant outfit.
Officers, jawans decorated
Srinagar, February 21
The Central Reserve Police Force (CRPF) decorated 32 of its officers and jawans for their services in the field of administration, operation, intelligence, training and other areas yesterday.
Snowfall caused loss of life, damaged properties
Srinagar, February 21
While 15 persons died as a result of the recent snowfall, another 50 were injured, 600 structures partially damaged and 60 got fully damaged in the Kashmir valley.
3 JeM ultras killed
Srinagar, February 21
Three militants of the Jaish-e-Mohammad (JeM) outfit were killed in an encounter with the security forces in Kooligam area of Kupwara district today.
Fire in bunker
Srinagar, February 21
Fire broke out in the bunker of the CRPF 119 Battalion situated near the VIP rest house at the Civil Airport, Budgam, causing damage to the bunker. LMG of the constable on duty was also damaged in the incident. However, no loss of life or injury to anyone was reported. — TNS
CRPF man held
Srinagar, February 21
The police today apprehended constable Mudasir Yousuf Bhat of the CRPF 183 Battalion during a naka checking at Pulwama and recovered an IED weighing about half kg fitted into a steel glass. A hand grenade was also recovered from his possession. Bhat is a resident of Sopore area — TNS