| | | |
| --- | --- | --- |
| | CHANDIGARH | |
Body found@@AMBALA: The decomposed body of three-and-half year old Priti, who was missing for the past eight days, was found floating in a ditch here on Sunday. Her father Suresh Kumar, a migrant labourer from Bihar, had reported the matter to the police. Her body has been sent to PGI for postmortem and inquest proceedings have been initiated. — TNS@@Meet@@MOHALI: A meeting of Old Boys Association of Sri Dasmesh Academy was held on Sunday. The members expressed utter dismay at the deterioration of the institution set up in the name of Sri Guru Gobind Singh, near the holy city of Anandpur Sahib, during the late 70s. — TNS@@Suicide@@PATIALA: A person committed suicide by hanging himself from a tree in front of the mini-secretariat, here on Sunday. The body was first noticed by Gurbaksh Singh, an employee of the DPRO office, who informed the police. Identity of the man is yet to be ascertained. — TNS
| | | |
| --- | --- | --- |
| | HARYANA | |

Birth anniversary@@SONEPAT: Former revenue minister and prominent educationist Tika Ram would always remain an inspiring force for society, said prof Virender, political secretary to CM, while paying rich tributes to Tika Ram on his 112th birth anniversary celebrations at Mandora village on Sunday. He reminded that Tika Ram went door to door for donation to open and run educational institutes. Ram would always be remembered for his selfless contribution. — OC@@@@Seminar held@@SONEPAT: Vice-chairperson of the Haryana Women Commission Chander Prabha said the commission would take up all those complaints which were lying pending before the dissolution of the commission by former Chief Minister Om Prakash Chautala. She was talking to mediapersons at Gohana on Saturday after presiding over a seminar on "Women empowerment and female foeticide" in Government College here. In the seminar, she sought cooperation from people to eradicate the evil of female foeticide and said the people should stop differentiation between a boy and girl. — OC @@@@1 killed in mishap@@SONEPAT: A motorcyclist, Nand Kishor Sharma of Kathura village, died on the spot and a passenger in a maxi-cab was seriously injured when the motorcycle Sharma was riding on was knocked down by the speeding maxi-cab on the Gohana-Meham road between Bhanderi and Kathura village on Friday. The injured has been identified as Ayub of Idgah Colony, Gohana. Sources said the driver of the cab lost control over the vehicle and hit the motorcycle. A case has been registered against the driver of the cab. — OC@@@@Health insurance scheme@@YAMUNANAGAR: ICICI Lombard has been selected as the health insurance provider under the Rashtriya Swasthya Bima Yojna to be implemented in four districts, including Yamunanagar, in the state this year. The yojna to be implemented at a cost of Rs 22.88 crore is likely to benefit 2.8 lakh BPL families in the districts. A workshop was organised on Friday in this regard at the mini-secretariat. Deputy commissioner Nitin Kumar Yadav said smart cards would be issued to the beneficiaries. — TNS@@@@150 kids examined@@SIRSA: As may as 150 special children were medically examined and issued certificates of disability by a committee of district red cross authorities constituted by deputy commissioner V. Umashankar on Friday. Children from 'Disha' and 'Paryaas', schools for special children, were examined in presence of district social welfare officer Alka Yadav. Special children are entitled to a monthly pension of Rs 600 per month from this year after getting these certificates. Earlier, the pension was Rs 300 per month, said Yadav. — OC@@@@INLD stages dharna@@HISAR: Hundreds of activists of the Indian National Lok Dal led by former finance minister Sampat Singh staged a dharna in front of the offices of power utility here on Friday in protest against the shortage of power. He said the shortage was the result of the government's failure to execute long-term purchase agreements with central power generating companies. He criticised the government's new excise policy saying it was strange that in times of acute power and water shortage, it was making sure that liquor was available to the public. — TNS@@@@Bank opens branch@@SONEPAT: The Small Industries Development Bank of India (SIDBI) has arranged jobs for around 3 crore persons in India, said chairman and managing director of the bank Rajinder Mohan Malla while inaugurating a new branch at Kundli in the district. He said with the opening of this third branch in the state, the number of branches of the bank had gone up to 68. "The companies funded by the bank give annual production of about Rs 6 lakh crore and produce worth around Rs 2 lakh crore of exports," he said.— OC@@@@Customer counselling@@REWARI: Gurgaon Gramin Bank (GGB) has set up its first customer counselling centre in its regional office here. It was inaugurated by its chairman N.T. Hegde here on Friday. Asserting that the centre would be instrumental in addressing the customers' problems expeditiously, the chairman also distributed cheques of sanctioned loan of Rs 8.20 lakh to office-bearers of 10 self-help groups. — OC@@@@Three booked@@REWARI: The police has booked Navita Yadav's husband Ravinder Yadav, mother-in-law Kamla Yadav and sister-in-law Maya Yadav, all residents of Katopuri village, for her dowry death. A case was registered against them on the complaint of Navin Kumar Yadav, brother of the deceased. The complainant had alleged that Navita, who got married to Ravinder in February 2006, was subjected to cruelty by her in-laws, following which she consumed celphos on January 19. She was admitted to the Civil Hospital here, where she died during the treatment. — OC


| | | |
| --- | --- | --- |
| | HIMACHAL PRADESH | |

BILASPUR
Lecturers' demand: The district unit of Himachal Pradesh promotee school lecturers association has demanded that the PTA policy should be properly revised with view to make it transparent and also commensurate with improving quality of education in schools. Addressing mediapersons here on Sunday after a district level grievances committee meeting of the association under the chairmanship of deputy director of higher education Rambhaj Vadhan, association president Laxman Thakur and general secretary Gyanchand Dhiman said the association also stressed that senior lecturers should be given preference in appointments in board examinations and all cases of regularisation of services of lecturers should be taken up with the government on top priority.
School function: Both teachers and parents have equal onerous responsibility to carve out careers and character of children in the early formative age and it is during this period that the future of a child is mostly decided. Deputy commissioner Devesh Kumar said this while presiding over the second annual prize distribution function of Glory Public School here on Sunday. He appreciated that all students, most of them tiny-tots, participated in the cultural programs. They were encouraged by giving prizes for their lovely performances. Children presented programmes of dances, songs, poems and also gave a show on protection of environment, keeping our surroundings clean, obeying of traffic rules and also taking care of health.
Chamba
Driver killed: Dil Khan, driver of a jeep, was killed and another person travelling in the vehicle was seriously wounded when it rolled into a deep gorge at Seri on the Chamba-Tissa road, about 50 km from here, on Saturday. The deceased belonged to the nearby Baroh area. The body was handed over to his kin after a post-mortem. A case has been registered.
Museum to hold seminar: Since the famous Bhuri Singh Museum at Chamba will be completing a century of its foundation, the management of the museum has decided to hold a two-day seminar on the "History and culture of Himalayas with special reference to the Western Himalayas" on March 26 and 27. Disclosing this here on Sunday, Hari Chauhan, curator of the museum said nearly 15 eminent researchers, archaeologist and historians had been invited during the seminar to give their presentations in their specialised spheres. "It is for the first time that such an inimitable seminar is being organised with respect to explorations on the Himalayan region as a series of events to mark the centenary year celebrations of the museum," he said.
Mandi
Wooden sheds burnt: Six wooden sheds were destroyed in a fire near Ramshila bridge in Kulu town on Sunday. Property worth Rs 2 lakh was destroyed. The fire was reported to be caused due to a short-circuit. The district administration gave immediate relief to the victims.
NURPUR
Office-bearers: The following have been elected office-bearers of the Multipurpose Workers and Health Supervisors Association of the local block: president - Deepak Sehgal; senior vice-president - Sneh Lata; general secretary - Subhash Chand; vice-presidents - Rajesh Sahotra, Vijay Laxmi, Tara Devi and Kamlesh Kumar; cashier - Satinder Sharma; joint secretaries - Ravinder Kumar and Gagan Singh.

| | | |
| --- | --- | --- |
| | JAMMU & KASHMIR | |
Regional potpourri
Akki roti in land of makki


Pandit Rao Dharennavar
It may sound incredible, but it's true that a sociology lecturer from Karnataka not only speaks chaste Punjabi but has also written several poems and articles in the language.
Hailing from Indi village in Bijapur district of Karnataka—the land of akki roti and Mysore pak— Dr Pandit Rao Dharennavar's mother tongue is naturally Kannada. But he felt the need to learn Punjabi to be able to strike a rapport with his students after his appointment as a sociology lecturer at Government College for Girls, Sector 42, Chandigarh, four years ago.
On a recent visit to a village near Jalandhar he spoke of his affair with the language. Having done his MA, M.Phil from JNU University in New Delhi, Dr Rao started learning Punjabi three years back and became fluent in the language within a few months. He developed such an interest that he wanted to know more about Punjabi culture and literature.
Subsequently, he started writing in the language too and some time back released a book 'Main Ta Main Ha,' which comprises five poems and several articles on the culture of Punjab. Besides, his articles often appear in Punjabi Tribune and Desh Sewak.
"Punjabi literature is not promoted as much as it should be. State literature is well promoted in the South," he said.
Even at the recently concluded NRI sammelan, he felt, many issues were discussed but not the promotion of literature.
Dr Rao is observing this year as 'sahitya da saal' (year of literature) and has started a campaign for promoting literature in Punjab. He visits different places, especially the rural areas of Punjab, to create an awareness about literature and to mobilise the masses against female foeticide.
On the importance of literature, Dr Rao said it had the power to discourage farmers from committing suicide, as has been happening in Punjab for some time.
Complaining about the negligible number of libraries in the state, this crusader of Punjabi literature felt the number of liquor shops in the state far outnumbered the libraries.
Landmark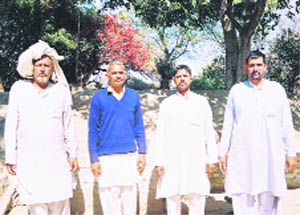 Committee members and other villagers seen inside the Siddh Baba ki Bani in Jhajjar district
In an era when encroachments are rampant and every other person thinks of wresting control over some piece of land, by hook or crook, the 'Siddh Baba ki Bani', a small forest located on the outskirts of Dubaldhan village in Jhajjar district, stands out as an exception.
The 'Bani', spread over 102 acres and located on the Jahajgarh road, has been in existence since hundreds of years. The place has remained the "tapasya" site of great saints like Baba Natthu Nath and Baba Bharthu Nath, who are worshipped by the people with utmost devotion.
The local residents hold the place in high esteem and are very particular about maintaining its sanctity. Nobody is supposed to take anything from the 'Bani' or disrespect it in any way.
A 21-member unofficial and unregistered committee of village residents looks after its upkeep. The responsibilities are passed on to successive generations. Cash offerings are deposited in the committee account and this amount is used for the provision of more facilities at the 'Bani'.
An annual bhandara (community lunch) is organised every year on Chandni Chhath of the "bhadon" month. Lakhs of devotees throng the 'Bani' and savour the "prasad" of sweet rice. About 40 quintals of sweet rice are cooked on the occasion.
The villagers organise the grand event by themselves and never accept any help or support from the local administration or police.
The sale of eatables, toys, showpieces and other household articles is
prohibited to save the religious affair from commercialisation.
The 'Bani' is a storehouse of numerous medicinal herbs, which are frequently procured by ayurveda experts.
Various species of birds have made it their home. About a quintal of foodgrains, including wheat, jowar and bajra are offered to these avians everyday.
Away from the madding crowd, the 'Bani' is a haven of serenity and solitude.
Dharmendra Joshi and Sunit Dhawan