Members of the Jammu-Kashmir Health Department Association protest in support of their demands in Jammu on Tuesday. — A Tribune photo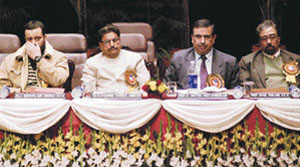 (Left to right): J.Mustafa, minister of state for information technology, Gurcharan Singh Charak, minister for higher education, Prof Amitab Mattoo, VC, Jammu University, and Prof Riyaz Punjabi, VC, Kashmir University, at the inaugural function of the third J & K Science Congress on the Jammu University campus on Tuesday. — A Tribune photo
Fake appointment racket unearthed, 6 arrested
Srinagar, February 26
With the arrest of six persons, the Jammu and Kashmir police today claimed to have busted a racket allegedly involved in duping unemployed youths by giving them "fake" letters of appointment to government jobs in return of hefty amount of money.
President's speech
Mufti agrees, Farooq disagrees
Jammu, February 26
Former Chief Minister and People's Democratic Party patron, Mufti Mohammad Sayeed, today welcomed the assertion about working for peace in Jammu and Kashmir. However, another former Chief Minister and the National Conference patron, Farooq Abdullah rejected the UPA claims, saying the peace process had lost its momentum.
Water woes: Govt to set up testing labs
Jammu, February 26
To ensure provision of safe drinking water to the people, the state government has decided to establish water quality monitoring and surveillance laboratories in all districts of the state.
After Deoband Declaration
Grand Mufti denounces killings in name of Islam
Jammu, February 26
Mufti Bashir-ud-din, Mufti Azzam (the grand Mufti) of Jammu and Kashmir has hailed the landmark "Deoband Declaration", which denounced terrorism and described it un-Islamic. The Mufti also denounced whatever was happening in the name of Islam in Kashmir.
Tehsil Status to Arnas
Strike augurs positive results
Reasi, February 26
The decision of residents of Arnas to observe a strike on the eve of Chief Minister Ghulam Nabi Azad's visit has yielded results as the issue was taken up in the rally held at Reasi today. A number of local leaders and elected representatives highlighted this demand before the Chief Minister.
Ladakh attracts more foreign than domestic tourist
Jammu, February 26
World's highest inhabited plateau Ladakh, also known as Moonland, in the Jammu and Kashmir is a foreigners' delight as it receives more tourists from abroad than domestic ones every year.
Improve functioning, power dept told
Jammu, February 26
The Public Accounts Committee (PAC) of the Legislative Assembly has directed the Power Development Department (PDD) to evolve a well-knit mechanism to improve functioning so that it benefited everyone.
Rs 2-cr aid for snow-hit areas
Jammu, February 26
In the wake of widespread damage due to the recent snowfall, the state government today released Rs 2 crore under the Natural Calamity Relief Fund (NCRF) scheme. Chief secretary B.R. Kundal after taking a comprehensive review of the damage caused to the property and infrastructure due to unprecedented snowfall in Jammu released the money.
Dropout rate down in schools
Jammu, February 26
As a result of opening of over 3,500 primary schools and upgradation of over 3,300 middle and high schools, the dropout rate from schools in Jammu and Kashmir had come down from 18.87 per cent to 5.88 per cent during the last five years.
5 quintal poppy husk seized
Srinagar, February 26
The state police today seized more than five quintals of poppy husk and arrested four people from south Kashmir, official sources said.
Tragedy strikes Manvati family
Jammu, February 26
An accident always leaves a tale of tragedy behind. On February 21 six people died in a road accident while on their way to Jammu from Srinagar. The dead included a Russian national also. Others killed were all coming home after availing their leave from the busy service schedule in the Kashmir valley.
'Govt biased against Jammu'
Jammu, February 26
State Bharatiya Janata Yuva Morcha (BJYM) vice-president Narottam Sharma today strongly criticised the coalition government's discriminatory attitude towards Jammu.
Tributes paid to Khanna
Jammu, February 26
The Bar Association, Jammu, today paid tributes to former judge of the Supreme Court, Justice HR Khanna, who died yesterday.