Zardari's frozen assets released
Afzal Khan writes from Islamabad
Two accountability courts on Wednesday terminated five of the seven corruption cases against PPP co-chairman Asif Zardari and ordered the release of his frozen assets.
Zardari's counsel Farooq Naek said his client has been honourably acquitted from cases, which were false and politically motivated. Earlier, the courts had removed the name of Asif's spouse and slain former premier Benazir Bhutto after her death.
But chief prosecutor Danishwar Malik said the cases have been closed under general amnesty granted to all holders of public offices under the National Reconciliation Ordinance promulgated by President Pervez Musharraf on October 5 last year.
Naek said cases against Benazir's chief security adviser and an ex-director of the Federal Investigation Agency, Rehman Malik, have also been terminated and his two cars impounded by the police have been released. "Allah has differentiated truth from lies and justice has been done," Zardari's lawyer, Farooq Naik, told reporters outside the court in Rawalpindi, a garrison city near Islamabad.
Judge Khaled Mahmood acquitted Zardari on charges of corruption and graft in cases relating to import of Ursus tractors, building a polo ground in Prime Minister House when his spouse was premier and holding assets beyond known means. He ordered to unfreeze the assets, which were seized soon after his arrest on November 6, 1996, when her handpicked president Farooq Leghari dismissed Bhutto.
The governments of Nawaz Sharif and Pervez Musharraf vigorously pursued the cases. Zardari spent eight years in prison before being released on bail in November, 2004.
Another anti-corruption judge Mohammad Younus also acquitted Zardari in two more cases including the ARY Gold case. Two more cases pending before a third court could not be taken up because of absence of the judge. Naek said these cases include accepting commission on grant of a contract to a Swiss COTECNA firm. This case is significant as it is also being pursued in a Swiss court.
"Benazir Bhutto and Asif Ali Zardari were the victims of draconian laws, but today all cases have vanished like the dark cold night," Naik added.

Identical triplets born
Manhasset (US), March 5
When they get older, Logan, Eli and Collin Penn may blanch at the notion they wore nail polish to their first news conference. But it is the only way their parents know how to tell the boys apart right now.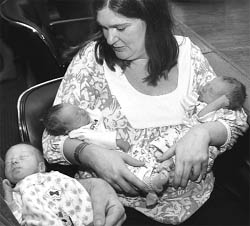 Identity crisis! Allison Penn looks at her identical triplets, (from left), Logan, Eli and Collin, at North Shore University Hospital in Manhasset, New York, on Tuesday. — AP/PTI
The identical triplets were born today at North Shore University Hospital on Long Island, New York - an event so rare that an obstetrician estimated it might happen just once in 200 million births.
The triplets' mother, Allison Penn, was impregnated with just one embryo through in-vitro fertilisation, said Dr Victor Klein, a specialist in multiple births and high-risk pregnancies.
That embryo split in half, and then one half of that split again, he said.
"This is the first one we're aware of in the literature in the country in which they only put back one embryo" and a woman gave birth to triplets, Klein said. "Most people put back two or three embryos, and you just never know." Identical triplets are born at a rate between one in 60,000 and one in 200 million, depending on the research, Klein said.
Allison Penn (31) said she and her husband, Tom (46), had tried to have a baby since they got married about four years ago. Although she once thought of having several children, the disappointments over four years revised her dreams downward.
"When it took us so long to get pregnant, I just assumed we were going to have one, and that would probably be it," she said. "So, I thought one would be good."— AP