Young World
NIT big fest from today
Tribune News Service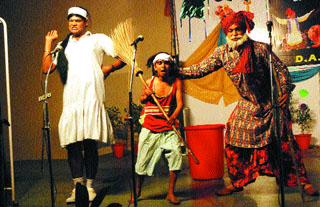 Students of DAV College present a skit during their annual function in Jalandhar. — Tribune photo by
Pawan Sharma
Jalandhar, March 6
Students from nearly 15 institutions will take part in a three-day inter-college cultural festival, Utkansh, at Dr B.R. Ambedkar National Institute of Technology (NIT) to begin here tomorrow.
Various events, including fashion show, rock band, face painting contest and rangoli contests, will be organised. Divisional commissioner S.R. Ladhar will inaugurate the event.
Painting exhib
Postgraduate students of fine arts department of the Apeejay College of Fine Arts will hold a two-day painting exhibition beginning tomorrow.
The young artists will depict their dreams and aspirations through the medium of colours woven into a rich tapestry, said principal Dr Sucharita.
Multimedia academy
Ozone communications on Wednesday announced the opening of their multimedia academy and studio, OXL. The academy will offer three months to one year diploma courses in animation, image editing and audio-visual editing, said Kuljinder Singh, a partner.
Fond farewell
Hans Raj Mahila Maha Vidyalaya organised a farewell party, Sham-e-Rukhsat, for the outgoing batches of various courses. Dr Gulshan Sharma, adviser to the Punjab government for employment, was the chief guest.
Students performed group dances on various numbers. In modelling, Manpreet won the title of "Ms Stylish" and Komal Arora was chosen as "Ms Smile."
Kangan Sharma was given the title of "Ms HMV" and Sandeep Kaur "Ms Most Beautiful Bride."
Top brigade
Three students of the primary section of Apeejay School, Model Town, have secured the first and second positions in the city in the NSTE examination held recently.
Anuj Dhawan and Aditya Aggarwal have won the first and second position, respectively, in class V. Sharanya Marik of class IV has stood second in the city, said headmistress Priya Singh.
Physiotherapy workshop
A workshop to tell students about new physiotherapy and diagnostic gadgets was organised at the DAV Institute of Physiotherapy and Rehabilitation on Thursday. Prof Saraswati Iyer of KEM Medical College and Hospital, Mumbai, explained the operational skills and usage of the new apparatus to the students. Dr Jitendra Sharma, principal, also attended the workshop.
Annual day
The pre-primary wing of Police DAV Public School organised its annual day, Swapnil Swarg, at the PAP multipurpose hall. The programme began with an invocation to Goddess Saraswati.
Tiny tots presented a dance drama "Mera swarg mujhe lota do."A modeling show was presented with 70 tiny tots dressed up as butterflies, flowers and animals.