PMK fumes over seat denial
Chennai, March 6
Pattalai Makkal Kathci (PMK) supremo Dr S. Ramadoss took yet another dig at Tamil Nadu Chief Minister M. Karunanidhi for not conceding a Rajya Sabha seat to his party but did not dare to leave the DMK-led Democratic Progressive Alliance (DPA) in Tamil Nadu.
Uttarakhand
Oppn boycotts budget session
Dehra Dun, March 6
The Congress and the BSP has announced boycott the remaining Budget session of Uttarakhand Assembly on the issue of caste certificates required to avail reservation in admissions and jobs. The Budget for 2008-09 is scheduled to be presented on March 10.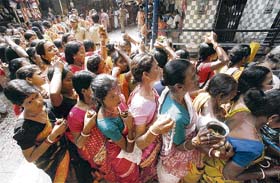 Women gather inside a temple as they celebrate Mahashivratri in Trakeshawar, about 50 km west of Kolkata, on Thursday. — Reuters photo


In video (56k)
Himalayan glaciers receding: Meena
New Delhi, March 6
Glaciers in Himalayas are melting at an alarming pace, a fact the union government is very well aware of. Minister of state for environment and forests Namo Narain Meena says retreat parameters of 35 glaciers shows that 43 per cent of glaciers in the Himalayan region are receding in the range of 10 to 20m/year.
Fighter aircraft shortage on INS Viraat: Antony
Mumbai, March 6
INS Viraat, India's sole aircraft carrier, has had to make to do with only a handful of fighter aircraft as the fleet of Sea Harriers deployed on board have depleted due to crashes. Union defence minister A.K. Antony admitted as much on the floor of Parliament recently.
Assam bans testing of controversial vaccine
Guwahati, March 6
The Assam Government has decided not to allow controversial physician Dr Dhaniram Baruah from testing his "genetically engineered vaccines against high pressure and other stress related diseases."
Mother drowns daughters for being ridiculed
Kolkata, March 6
A woman, who was unable to bear the constant "ridicule" from everyone for having given birth to only daughters, drowned her two infant girls, the police said today. The confession by the woman, identified as Seema Soi, a resident of Chagram at Burdwan district, ended the mystery of the discovery of two bodies from a reservoir at global headquarters of the Ramkrishna Math and Mission at Belur in Howrah.


Goonj, NGO of the year
New Delhi, March 6
Deepalaya,a Delhi-based NGO with extensive health, education and women empowerment activities in Mewat and Gurgaon districts in Haryana, was awarded the best NGO in the medium category in the Northern region by the Resource Alliance and the Nand and Jeet Khemka Foundation at a function here yesterday evening.
President of Deepalaya and Senior Associate Editor of The Tribune A.J. Philip receives the Best NGO of the Northern region award from union finance minister P. Chidambaram, in New Delhi on Wednesday. Also seen is Infosys chairman and chief mentor N.R. Narayanamurthy(L). — Tribune photo by Manas Ranjan Bhui
NHRC asks Bihar to pay Rs 1.5 lakh for prisoner's death
New Delhi, March 6
The NHRC has directed the Bihar government to pay Rs 1.5 lakh to next of kin of a prisoner who died on the jail premises "due to negligence of the authorities" six years ago. Expressing doubts over the findings of magisterial inquiry reports submitted by Bhagalpur district jail officials, the commission rejected the authorities' plea that the inmate, Padum Sorren, died accidentally after a tree branch fell on his head in 2002.
Can Pak citizen own property in India?
New Delhi, March 6
The Supreme Court will examine the issue whether a Pakistani national can have right to property in India. The issue was raised by a petitioner Bhai Lal Shukla, challenging the Allahabad High Court order which had allowed a Pakistani national, Suhel Siddiqui, to take possession of the land belonging to his uncle who was a bachelor.
Lata: Music industry needs a revolution
New Delhi, March 6
The Bollywood music industry is in urgent need of a revolution in composing to fish itself out of the slump it has witnessed in recent times, says veteran singer Lata Mangeshkar. "If things have to improve, one of the two has to happen."
Exam stress claims two lives
New Delhi, March 6
Exam-related stress claimed two lives here while a woman hanged herself allegedly due to frustration in her marriage. According to police sources, Manju (16), of north-west Delhi's Jehangirpuri, hanged herself at her residence last night after she performed badly in her Sanskrit paper yesterday.
Ex-minister of Tripura dies of head injury
Agartala, March 6
Former Tripura health minister and veteran Communist leader of Tripura Bibekananda Bhowmik died here this morning following a fatal head injury. Bhowmik was 78.He was a bachelor and has three brothers. He was admitted to hospital with a critical head injury yesterday after being attacked by his nephew on way to the CPM local party office in the Dhaleswar area of Agartala.
Soren acquitted
Jamtara, March 6
A local court today acquitted former union coal minister Sibu Soren and 13 others in the more than three-decade-old Chirrudih massacre case. First class additional and district sessions court Judge Arun Kumar acquitted the 14 accused giving them "benefit of doubt".



Videos
Salaam-e-Ishq to be released as six films
(56k)
Acc to reports SRK to co-produce Yash Raj's next
(56k)
French archaeologists look for new heritage sites
(56k)