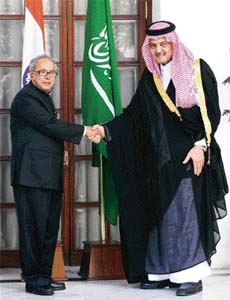 Saudi Arabia's foreign minister Prince Saud al-Faisal shakes hands with his Indian counterpart Pranab Mukherjee before their meeting in New Delhi on Thursday. Saud is on a two-day official visit to India. — Reuters
Rawat wins Pauri seat
Dehra Dun, February 28
Postal ballots sealed the fate of Satpal Maharaj, a spiritual guru and the Congress candidate, in Pauri Garhwal Lok Sabha byelection even as BJP's T.P.S. Rawat was declared winner by a margin of 4,506 votes.
Economic Survey
Gap between rich, poor will widen: Left
New Delhi, February 28
Opposition parties and the Left said today that despite efforts at presenting a rosy picture in the Economic Survey by the government, there were problems with the fundamentals.
Special status to Darjeeling hill areas
Panel asks Centre to re-examine Bills
New Delhi, February 28
The Parliamentary Standing Committee on Home Affairs today asked the government to take a re-look on Bills seeking to accord special status to Darjeeling hill areas before proceeding further.
Indian concerns conveyed to Malaysia: Mukherjee
New Delhi, February 28
India has "suitably conveyed" its concerns, to Malaysian authorities, regarding recent developments pertaining to the Indian community in the country, external affairs minister Pranab Mukherjee said today.
Police implicating supporters in false cases: Ansari
Lucknow, February 28
Mafia don turned politician Mukhtar Ansari today accused the state DGP Vikram Singh of backing criminal Brijesh Singh, his arch rival who was recently arrested. According to Ansari, the UP police had slackened his security and was implicating his supporters in false cases at his enemy's behest.
16 labourers run over by train near Surat
Surat, February 28
At least 16 people hailing from Uttar Pradesh were killed when the Saurashtra Express ran over them on the Kakra Khadi bridge between Surat and Udhna stations last night.

In video (56k)
Poverty no ground for leniency against rape convict: SC
New Delhi, February 28
The claim of poverty by an accused is no ground for taking a lenient view against a rape accused, the Supreme Court has held throwing away an appeal of a gang rape convict from Haryana awarded life sentence along with two others.
Nod to Gujarat ban on bull, bullock slaughter
New Delhi, February 28
The Gujarat Government after succeeding in getting favourable verdict from the Supreme Court on the ban of cow slaughter in the state earlier has got a further boost with the apex court also upholding its notification banning slaughter of bulls and bullocks and sale of beef.
Rizwanur committed suicide: CBI
Kolkata, February 28
The CBI inquiry report on the Rizwanur Rahman death case, which was "endorsed" and read out at a special Bench at Calcutta High Court today, concluded that Rizwanur had committed suicide and was not murdered.
Court stays gag order on Raj
Mumbai, February 28
A Sessions Court in Mumbai today stayed the extension of the gag order imposed by the police on Maharashtra Navnirman Sena chief Raj Thackeray.
Sanjay, Manyata withdraw marriage declaration
Mumbai, February 28
Actor Sanjay Dutt and his fiancee Manyata have withdrawn their marriage declaration filed before the South Goa sub-registrar following controversy over the genuineness of the documents submitted by them.
'Arunachal integral part of India'
New Delhi, February 28
India has conveyed to China that Arunachal Pradesh is an integral part of India. External affairs minister Pranab Mukherjee today said in Rajya Sabha that the special representatives of India and China were presently seeking a framework for settlement of the boundary question.
Special trains for Holi
New Delhi, February 28
Northern Railway has decided to start new trains to counter the Holi rush. These trains include AC Superfast, Superfast and Unreserved trains that would connect New Delhi to Jammu Tawi, Varanasi, Lucknow, Patna, Darbhanga and Ludhiana from March 15 to April 1.
Destiny's Child
Slipping through toilet, now hale and hearty
Ahmedabad, February 28
This one seems to be straight out of the 'Ripley's Believe it or Not" series. A fetus slipped through the toilet bowl of a running train when her mother went to ease herself but the new-born was all hale and heart in spite of lying on the railway track in the cold of the night with a dangling umbilical cord.
Respect Red Corner notices: Interpol chief
New Delhi, February 28
In an apparent reference to Pakistan, where India's most-wanted fugitive Dawood Ibrahim is sheltered, Interpol secretary general Ronald K. Noble shared the view that countries should respect Interpol Red Corner notices.
Oppn disrupts Houses for 3rd day
New Delhi, February 28
For the third day in a row, members belonging to opposition parties today disrupted both the Houses of Parliament demanding a loan waiver for debt-ridden farmers.
India protests offending use of Gandhi's images
New Delhi, February 28
India has taken up with the USA the offensive use of images of its national leaders like Mahatma Gandhi and Jawaharlal Nehru and the national flag on undergarments by a US based online supplier.
India welcomes pact in Nepal
New Delhi, February 28
India today welcomed that the government of Nepal and the United Madhesi Democratic Front have reached an agreement.
Close shave for passengers as aircraft hits blue bull
Kanpur, February 28
Passengers of an Allahabad-bound Air India flight had a narrow escape today as the aircraft hit a blue bull shortly after landing at the Ahirwa Airport here.
Best student award at age 76
Jaipur, February 28
It was a very long wait for Triloki Das Khandelwal to get his due. But as the adage goes it is better late than never. After a long wait of 56 years, perseverance and persuasion paid of as Khandelwal was conferred the gold medal for the best academic student of the year 1951 at the age of 76.



Videos
Govt to bring peace to Nagaland, says PM
(56k)
Arowana fish becomes popular as a good luck charm
(56k)
Arshad Warsi is the latest to turn film producer
(56k)