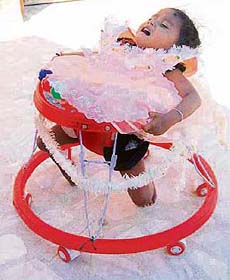 Lakshmi Tatma, 2, uses a baby walker to take steps at her home in a village on the outskirts of Jodhpur. Lakshmi, who was born with four arms and four legs, has started to take her first steps with the help of a walker, after her extra limbs were removed through a difficult surgery in Bangalore recently. — AFP
Delimitation Impact
BJP appoints 54 leaders to vet constituencies
New Delhi, February 25
Apprehending that there could be fluctuation of electoral fortunes in the next Lok Sabha elections due to delimitation of constituencies, the BJP today nominated 54 leaders to vet the prospects of the party in "BJP-centric" seats across 24 states.
Brutality against farmers
Uproar in UP assembly, Oppn stages walkout
Lucknow, February 25
District administration's brutality on peacefully protesting farmers at the collectorate compound in Fatehpur district caused an uproar in both Houses of the state's legislative assembly today leading to repeated adjournments and eventual walkout by the entire Opposition today.
Thackeray, Lalu locked in war of words
Mumbai, February 25
Shiv Sena supremo Bal Thackeray and union railway minister Lalu Prasad Yadav are locked in a war of words once again over the issue of migrants in Mumbai. This time, Thackeray kicked up a major controversy by hitting out at MLAs in the Bihar Assembly for heckling the state's Governor R.S Gavai, who hails from Maharashtra.
Campaign Against North Indians
M'rashtra issue to echo in LS
New Delhi, February 25
The ongoing war of words unleashed by Maharashtra Navnirman Sena leader Raj Thackeray's violent campaign against North Indians will be replayed in Parliament on Wednesday when this highly sensitive issue comes up for discussion in the Lok Sabha.


Husain's paintings fetch record Rs 4 cr
New Delhi, February 25
After sizzling the world with mind boggling prices, Indian art went under the hammer in a first of its kind live and on line auction with M.F. Husain's "Tribute to Hashmi" fetching a record Rs 4 crore, the highest for him in India.
RTI
Dept of Posts demands Rs 1.29 lakh for info
New Delhi, February 25
A government department has asked an applicant to pay Rs 1,29 lakh as "labour charges" to provide information under the Right to Information Act. In a move clearly meant to deter the applicant, the department of posts has demanded Rs 1,29,390 towards manpower cost from Rakesh Aggarwal, secretary of an NGO, Nyay Bhoomi.
Rape charge against father
SC asks Shimla court to prosecute woman
New Delhi, February 25
In a significant order, the Supreme Court today directed initiation of prosecution proceedings against a woman from Himachal Pradesh for perjury as she changed her statements about rape charges against her father. But the accused did not get any respite as the court refused to change its order sentencing him to life imprisonment.
Sohrabuddin fake encounter case
SC agrees to hear bail plea of cops
New Delhi, February 25
The Supreme Court today agreed to hear the bail petitions of two cops facing charges in the Gujarat's much-publicised Sohrabuddin "fake encounter" case after the state High Court had cancelled the bail granted to them by the trial judge.
Disinclination to cook no ground for divorce: HC
Madurai, February 25
A woman's disinclination to cook food cannot be considered as a valid reason for granting divorce, the Madurai Bench of the Madras High Court has ruled. Dismissing an appeal filed by a Kanyakumari-based engineer, who had sought divorce from his wife, Justice G. Rajasuriya said "by no stretch of imagination, a wife's disinclination to cook could be a ground for divorce".
Gag order against Raj upheld
Mumbai, February 25
The sessions court today upheld the police's gag order against Maharashtra Navnirman Sena (MNS) chief Raj Thackeray prohibiting him from holding rallies and addressing media, but said it can not be indefinite.
Quota for SC/ST in medical, dental courses
New Delhi, February 25
The government has decided to introduce reservation for SC/ST candidates for admission to undergraduate medical and dental courses from this year under the All-India Entrance Examination.
Justice Khanna passes away
New Delhi, February 25
Justice Hans Raj Khanna, former Supreme Court judge, who won international acclaim for his judgement during emergency that courts cannot shut the doors for citizens against illegal detention, passed away in his sleep today at 95.
Talbott surprised at opposition to N-deal
New Delhi, February 25
Former US deputy secretary of state Strobe Talbott in the Bill Clinton's presidential tenure is amazed at opposition to the Indo-US nuclear deal, saying it was a classic case of putting a bullet in a gift horse's head as he was not sure whether the next US administration would offer a similar deal.
AESA radar technology for LCA
New Delhi, February 25
In what could turn out to be a major technology leap for the country's indigenous Light Combat Aircraft (LCA), European Aerospace Defence and Security has offered AESA radar technology for installation on board LCA.
MPs caught napping
New Delhi, February 25
It was her maiden speech in Parliament but the import of President Pratibha Patil's address on day one of the budget session seemed lost on many senior MPs who were caught napping - literally.
LS, RS mourn Amte, Hillary's death
New Delhi, February 25
Both Houses of Parliament were today adjourned after obit references. The Lok Sabha mourned the death of Shiv Sena MP Prakash Paranjpe, mountaineer Edmund Hillary and social activist Baba Amte.
Airport staff strike deferred till March 10
New Delhi, February 25
The nationwide indefinite strike called by airport employees from tomorrow, asking the government to fulfill their charter of demand, has been deferred till March 10 following talks between agitated workers and the Union Civil Aviation Ministry.



Videos
Shahid Kapoor celebrates his birthday
(56k)
Adnan Sami's new look after losing 109 kgs
(56k)
Goa tourism 'spices' up
(56k)
China to hold joint exercise in India: Antony
(56k)
India hosts the world's largest tea party
(56k)
Bangladesh army chief boosts ties with India
(56k)