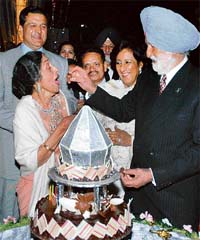 Marshal of the Indian Air Force Arjan Singh and his wife Teji celebrate their 60th wedding anniversary in New Delhi on Sunday. — PTI
Naxal attack toll rises to 18
Bhubaneswar, February 17
With three more police personnel succumbing to Naxalite bullets during a combing operation, the toll in Naxal attack rose to 18 today. Hundreds of armed Naxalites who raided the small town of Nayagarh, about 90 kms from here on the night of Friday.
ULFA calls Assam bandh tomorrow
Guwahati, February 17
The ULFA has called for a 12-hour "Assam Bandh" on February 19 to protest against the arrest of People's Consultative Group member Lachit Bordoloi. In an e-mail to the media here, ULFA chairman Arabindo Rajkhowa said the bandh was called to protest against the arrest of Bordoloi and several other "human rights" activists.
Sethusamudram
GoM Meeting
Ambika walks out
New Delhi, February 17
Culture minister Ambika Soni, at loggerheads with shipping minister T.R. Baalu on the Sethusamudram issue, had walked out from a meeting of the Group of Ministers (GoM) recently indicating that tensions between the Congress and the DMK over the controversial project have failed to subside.
Meghalaya Poll
Spotlight on Sangmas
Guwahati, February 17
Three Sangmas from the Nationalist Congress Party in the fray are in the focus in the run-up to March 3 Assembly elections in Meghalaya. NCP leader and former Lok Sabha Speaker P.A. Sangma and both his sons, James K. Sangma and Conrad K Sangma, are contesting elections from three different constituencies in the Garo Hills areas as NCP candidates.
Selection right for a post cannot be indefinite: SC
New Delhi, February 17
The Supreme Court has ruled that the right of selection for a post cannot continue indefinitely as citizens have human right of development and offer of appointment on such posts should be directed only on the basis of merit.
Muslim girls can declare forced marriage 'null & void'
New Delhi, February 17
A girl has full right to choose her husband and, if forced to marry against her wish, she can declare the marriage "null and void", prominent Muslim bodies and Islamic scholars have said.
Reservation for Women
BJP to hold rally on Feb 21
New Delhi, February 17
Opposition BJP's women's wing has decided to hold a massive rally here on February 21 to mount pressure on the Congress-led UPA government for passing the bill pertaining to 33 per cent reservation for women in Parliament, state legislatures and for other constitutional posts.


DefExpo
UK to supply Sea Harriers' spares to Navy
New Delhi, February 17
Positioning itself as the world's second largest arms exporter, Britain has said it would be happy to share its defence technology with India for the mutual benefit of both countries and would also be supplying four Sea Harriers air frames to the Indian Navy.

An overview of the "Defexpo India 2008" at Pragati Maidan in New Delhi on Sunday. — PTI
Lanka procuring arms from Pak to fight LTTE
New Delhi, February 17
Engaged in an all-out military campaign against the LTTE, Sri Lanka has said it is procuring arms from Pakistan to meet the terror threat from the Tamil Tigers. "We are facing a problem of terrorism against a democratically- elected legitimate state.


Multiplexes stop screening 'Jodhaa Akbar'
Ahmedabad, February 17
Screening of Bollywood movie "Jodhaa Akbar" has been stopped in multiplexes across the city following protests by the Rajput community. A group of people also vandalised a single-screen cinema hall in Naroda area of the city today which was screening the movie, the police said.
Entrance of Galaxy cinema after being ransacked by activists of a hardline Rajput group protesting against the screening of "Jodha Akbar" in Ahmedabad on Sunday. — PTI photo
Regulate fee structure in private schools: Panel
New Delhi, February 17
With mushrooming of private schools, the National Knowledge Commission has suggested a slew of measures, including regulation of fee structure and transparent admission process.
Teachers' kids may not get free schooling
New Delhi, February 17
Education provided by schools to children of teachers and staff members, which is normally free, may now come at a price, with ITAT ruling that managements should include all direct and indirect costs while assigning a notional value to such a benefit.
Naga peace process has slowed down, says Naryanan
Kohima, February 17
Admitting the Naga peace process has slowed down, National Security Adviser M.K. Narayanan has said the parleys can move forward only if NSCN-IM agrees to accept a solution within the Constitution's broad parameters.
Shiv Sena unperturbed by Raj's popularity
Mumbai, February 17
Shiv Sena appears to be unperturbed by the growing popularity of Raj Thackeray in the wake of his anti-north Indian campaign and does not consider that it will have any affect on the Marathi electorate.
Threat to Maya's life real, admits DGP
Varanasi, February 17
DGP Uttar Pradesh Vikram Singh, dropped a bombshell here today by admitting there was a grave security threat to Chief Minister Mayawati's life.
Fire at Kolkata leather unit
Kolkata, February 17
Property worth crores was gutted in a fire at a leather-manufacturing unit at Kasba industrial estate here today. It is the sixth such incident in a month after the Nandaram market blaze.
One in every 30.5 e-mails contains virus: Report
New Delhi, February 17
India, where internet penetration is increasing fast, is also the most vulnerable to spammers and virus attacks, a study has said. "Virus activity increased across a number of countries in January, including India, which takes the number one spot with 1 in 30.5 e-mails," a study conducted by a web security services firm MessageLabs said.
I don't compose for Grammy, says Anoushka Shankar
New Delhi, February 17
Indian-classical composer, Anoushka Shankar, whose latest collaborative fusion album 'Breathing under water' with Karsh Kale released recently, says that she doesn't compose music for awards.
Bipasha fan of Pak singer Atif Aslam
Mumbai, February 17
Actress Bipasha Basu is a fan of Pakistani singer Atif Aslam and she wants him to do the playback for her movie "Race". Just back from Kolkata after shooting for her first Bengali film, "Sab Charitra Kalpunik" (All Characters Imaginary) by Rituparno Ghosh, Bipasha almost swoons at the mention of her favourite singer.
Freedom fighter Upendra Vajpeyi dead
New Delhi, February 17
Upendra Vajpeyi, a freedom fighter, columnist and a journalist par-excellence, passed away today in a Delhi hospital after a brief illness. He was 86 and survived by his wife Aruna Patel Vajpeyi, brother Raghavendra and a sister Pratibha.
Actress Manorama dead
Mumbai, February 17
Yesteryears' actress Manorama (81), known for her comic and negative roles, died in a private hospital here on Friday. She was last seen in Deepa Mehta's Oscar nominated "Water".



Videos
Buddha blames Bangladesh for sheltering militants.
(56k)
Compensation for Maoist attack victims announced.
(56k)
A school for specially abled children in Bihar.
(56k)
Trouble makes an entry into the Devgan household.
(56k)