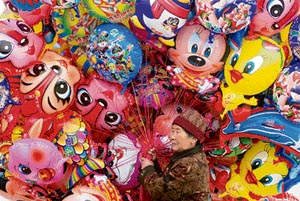 A vendor sells balloons featuring cartoon characters on a street at Changzhi in China on Sunday. — Reuters photo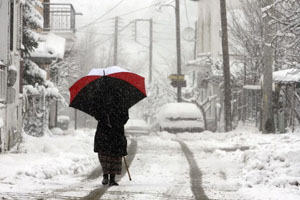 WHITE BLANKET: A woman walks in the village of Malakasa, near Athens, Greece, during heavy snowfall on Sunday. — AFP photo
Pak Poll
Close contest among bigwigs
About three dozen National Assembly constituencies across the country will be in the spotlight with Monday's elections promising a close contest among high-profile candidates.

Bilawal to cast his first vote
Musharraf promises fair polls
In a last-minute push for popular votes, Pakistani politicians indulged in wild mutual attacks and made conflicting high claims of success as election campaign marred by violence ended yesterday, 36 hours ahead of Monday's general election.
Report on Rigging
AG's legal notice to rights group
Attorney-General (AG) Malik Qayyum has served a legal notice on Human Rights Watch(HRW) for circulating a defamatory report about him in which he reportedly predicted massive rigging in elections.
Pak Blast Death toll rises to 47
Islamabad, February 17
The death toll in the Parachinar suicide blast yesterday rose to 47 as nine more succumbed to their severe wounds at Agency Headquarters' Hospital of Kurram Agency, hospital sources said today.
1 killed in Nepalgunj violence
At least one person was killed and over 70 others sustained injuries, two seriously, in Nepalgunj, in mid-western Nepal, on Sunday while the cadres of agitating Madhesi groups scuffled with the riot police.
ANC chief Zuma may take 5th wife
Johannesburg, February 17
Jacob Zuma, president of South Africa's ruling African National Congress (ANC), may take a fifth wife, just weeks after tying the knot with a fourth, the Sunday Times newspaper reported.
Obama, Clinton feud over role of 'superdelegates'
Washington, February 17
White House hopeful Senator Hillary Clinton has clashed with rival Barack Obama over how the Democratic Party should choose its presidential nominee, saying unelected delegates were free to make up their own minds and not bound by the popular vote.

Hillary's campaign in 'deeper trouble'
Obama wears bracelet given by Iraq martyr's mother
Eau Claire (USA), February 17
Barack Obama is wearing a wristband in memory of a soldier killed in Iraq, given to him by a mother who said she wants the Democratic presidential candidate to keep others from dying.
Move Britney case to federal court: Lawyer
Los Angeles, February 17
An attorney, who claims to represent Britney Spears, has filed papers to move her conservatorship case from the Los Angeles County Superior Court to the federal court, but legal experts question whether his legal strategy is viable and whether he can represent the troubled pop star at all.
Anwar criticises Malaysia govt for crackdown on Indians
Kuala Lumpur, February 17
Former Malaysian deputy Prime Minister Anwar Ibrahim today criticised the authorities for using water cannon and teargas against ethnic Indians protesting against alleged discrimination.
Indian jailed in UK for indecent behaviour
London, February 17
An Indian student, studying law at Newcastle, has been jailed and faces deportation to India for making indecent exposure and sexual assault.
Rs 52 crore for 'No. 1' number plate
Dubai, February 17
To have a 'No 1' car number plate is easily lot more costly than having the car itself, and a businessman in Abu Dhabi actually paid Rs 52 crore for it.
Suicide bomber kills 2 in Baghdad
Baghdad, February 17
A female suicide bomber killed at least two persons and injured four others in central Baghdad, the police said on Sunday, the latest such attack to be carried out by a woman.
Kosovo declares independence
Pristina (Kosovo), February 17
Kosovo declared itself a nation today, mounting a brash and historic bid to become an "independent and democratic state" backed by the US and key European allies but bitterly contested by Serbia and Russia.
Prabhakaran not hurt: LTTE
Colombo, February 17
Rubbishing frequent claims by Sri Lankan government that the elusive LTTE supremo Vellupillai Prabhakaran has been injured in a military raid, his key aide has said the people would soon realise the "futility" of army's claims of success against the rebels.
2 die as plane, copter collide mid-air
Wellington, February 17
Two persons were killed when a light plane and a helicopter collided in mid-air, north of New Zealand's capital today, the police said.
Sikh undertakes speed trial to challenge helmet rule
Toronto, February 17
In his battle to overturn a rule making safety helmets mandatory, a devout Sikh in Canada underwent a trial to prove that the turban didn't come at high speeds.
Cyclone-hit B'desh gets relief from Bengal
Dhaka, February 17
The West Bengal government has offered 111 truckloads of rice and other relief material for the victims of recent cyclone in Bangladesh, days after the Indian envoy ruled out easing of a ban on export of cheap rice to allow supplies to Dhaka.




Video
Pak in a fragile situation: South Asia expert.
(56k)