Which is best time for Kashmir polls?
Jammu, March 10
With the Amarnath pilgrimage beginning in July, the holy month of Ramadan in September and the new Assembly to be elected before November 20, 2008, authorities seem to be in a fix and are finding it hard to decide on an appropriate date.
Udhampur
NC kicks off poll campaign
Udhampur, March 10
The National Conference (NC) virtually kicked off the election campaign from Udhampur today as party patron and former Chief Minister Dr Farooq Abdullah addressed a pubic meeting and interacted with the party cadre.
Militancy under control, threats continue: GoC
Bandipore, March 10
Militancy in the valley is largely under control, but threats to the present atmosphere of peace remain formidable, General Officer Commanding, 15 Corps, Lt-Gen Mukesh Sabharwal said here today, about 54 km from Srinagar.
Resolve Kashmir issue at 'highest level'
Srinagar, March 10
Former Chief Minister Farooq Abdullah here today said the Kashmir issue required a political solution to be worked out by the top leadership of India and Pakistan and stressed the need for resuming constant measures in this direction.
Muslims join Hindus on temple renovation issue
Udhampur, March 10
Even as the district administration has been trying to persuade Hindu organisations to call off Tuesday's strike call, Muslims of Kishtwar town have come forward to join hands with their Hindu brethren in their struggle for the renovation of the damaged historical temples.
Muslim inter-caste marriages hard to materialise
Mendhar (Poonch), March 10
Those who feel that the inter-caste marriages are hard to materialise amongst Hindus are wrong as here in this border township, the marriages among different castes amongst Muslims too face stiff opposition from society.
Latest trends in agriculture discussed
Udhampur, March 10
To educate farmers about various schemes on latest trends in agriculture, the Agriculture Department, Udhampur organised an awareness camp, especially for the farmers belonging to Gujjar and Bakarwal community, under Tribal Sub Plan (TSP) at Chadwa village near Mansar.
Let hideout busted: Police
Srinagar, March 10
The state police today said they had averted a probable tragedy by busting a hideout of the LeT, which was being used as a launchpad for its cadres, for carrying out fidayeen attacks.
Mehbooba seeks extension of facility
Jammu, March 10
Peoples Democratic Party (PDP) president and member, Parliament, Mehbooba Mufti, has sought the extension of agriculture loan waiver facility, recently announced in the Union Budget, to the horticulture sector in Jammu and Kashmir.
Youth wing threatens to revive strike
Jammu, March 10
The youth wing of the all-India Kashmiri Samaj (YWAIKS), who recently suspended its month-long chain hunger strike, have warned to again lodge their agitation if the government fail to fulfil its promises.
BJP takes out victory march
Jammu, March 10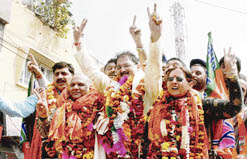 Having stung the Congress by surprise by clinching the post of the city Mayor, the BJP today took out the victory procession across the city. The newly elected Mayor, Kavinder Gupta, was led in a long convoy of cars from the Brigadier Rajinder Singh Chowk to the Town Hall where for formally taking over the reins.
Newly elected mayor of the Jammu Municipal Corporation, Kavinder Gupta, along with party president Ashok Khajuria during a roadshow in Jammu on Monday. Tribune photo: Anand Sharma
Vakil address embarrasses Azad
Jammu, March 10
Minister for social welfare and senior vice-president of the Pradesh Congress Committee Abdul Gani Vakil appears to have exceeded his brief while speaking about the coalition partner, the People's Democratic Party.
Migrant wins legal battle after 13 years
Jammu, March 10
The Jammu and Kashmir State Consumer Disputes Redressal Commission, headed by Justice G.D. Sharma (Retd.) and Khalid Hussain, have directed the National Insurance Co. Ltd to reimburse loss of insured's stock in trade valuing of Rs 8 lakh along with interest at 8 per cent per annum from January 28, 1991, (date of loss) till the final payment is made.
Haphazard parking, encroachments plague Jammu
Jammu, March 10
The bustling markets and streets of Jammu city are plagued by encroachments by shopkeepers and haphazardly parked vehicles on roadsides which have added to the misery of pedestrians.
SRTC employees call off strike
Jammu, March 10
Employees of the State Road Transport Corporation today called off their one month long strike following the assurance by minister for transport Hakeem Mohammad Yaseen. The transport minister assured to release the pending salaries of the agitating employees of the corporation.
ING Vyasa Life launches scheme
Srinagar, March 10
A leading private insurance company has termed Srinagar as an upcoming and important market in north India, while launching its latest pension plan.
Stree Shakti Puraskar for Nighat
Jammu, March 10
Noted social activist Nighat Shafi Pandit, who has been working for the upliftment and empowerment of women, besides rehabilitating orphans in the militancy hit state has been conferred with the 'Stree Shakti Puraskar' for her pioneering work in the field of development and empowerment of women. The award was presented to her in New Delhi by UPA chairperson Sonia Gandhi on Saturday. — TNS