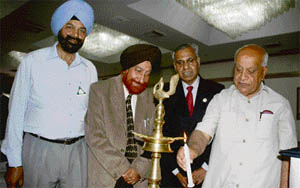 Health minister Mangat Ram Sharma inaugurates the 37th National Safety Week in Jammu on Tuesday. — Tribune photo by Anand Sharma
Kashmir Dispute
Involve people in dialogue process: Farooq
Jammu, March 11
Emphasising the need of involving people of Jammu and Kashmir in dialogue process, former chief minister and National Conference patron Dr Farooq Abdullah has accused the Central government for being non-serious towards resolving the Kashmir issue.
Mir open to Hurriyat connection to take on PDP
Jammu, March 11
Barely few days after his expulsion from the PDP, former minister Ghulam Hassan Mir today said that he was in touch with the All Party Hurriyat Conference.
BJP takes out rally over Kannur killings
Udhampur, March 11
With forthcoming Assembly elections in mind, the BJP has taken the Kannur battle to the mountainous district of Udhampur to get blessing of the leaders of Rashtriya Sewamsevak Sangh (RSS).
Soz to address public meeting today
Srinagar, March 11
Union minister for water resources Saifuddin Soz is arriving here tomorrow on his maiden visit to Kashmir valley after he took over as the new president of the Jammu and Kashmir Pradesh Congress Committee (JKPCC) last month.
Consumer panel pulls up Drugs Controller
Jammu, March 11
The J&K State Consumer Disputes Redressal Commission has pulled up the Drugs Controller of the J&K State Health Department for lax in performing its duties.
Crime against Women
Special legislations if voted to power: NC
Jammu, March 11
Patron National Conference and former Chief Minister Farooq Abdullah yesterday said his party if voted to power would bring special legislations to deal with the increasing crime against women in society.
State industries lack trained workforce: CII study
Jammu, March 11
It is an irony. At one hand the state faces severe problem of unemployment and on the other it does not have the required trained workforce for specific industries.
2 ultras surrender on Army's humanitarian gesture
Udhampur, March 11
Impressed by the humanitarian service rendered by the Army to his pregnant wife at the time of delivery, a self-styled commander of the Hizbul Mujahideen (HM) outfit has laid down his arms with another militant in Reasi district. Blessed with a child on Saturday, the militant surrendered this morning as it was all due to the timely help of the Army medical team that lives of both the mother and the child were saved.
SRTC staff continue strike in Srinagar
Srinagar, March 11
Employees of the Jammu and Kashmir Road Transport Corporation (SRTC) continued their strike for the twenty-second consecutive day today and held protest demonstrations to impress upon the authorities to fulfill their long-pending demands.
Huge quantity of arms, ammunition recovered
Udhampur, March 11
Following disclosure of two Hizbul Mujahideen militants, who had surrendered on Sunday before the Army and the police, security forces this morning recovered huge quanity of arms and ammunition from a remote area of Reasi district.
Bid to promote ornamental fishes
Jammu, March 11
In a bid to promote breeding of ornamental fish species, the state Fisheries Department has decided to establish breeding ponds at Doomi village near Akhnoor.
MLA held for assaulting SPO
Jammu, March 11
A Jammu and Kashmir National Panthers Party (JKNPP) MLA has been booked by the police for allegedly assaulting a Special Police Officer (SPO) at his residence in Akalpur area of Jammu district, police sources said today.
Tribune staffer bereaved
Jammu, March 11
A condolence meeting was today held at the Jammu office of The Tribune in which the staff paid tributes to Deewan Chand Khajuria, father of The Tribune staffer Ravi Krishnan Khajuria, who expired here yesterday.
Three houses gutted by fire
Udhampur, March 11
Three houses were completed gutted by a devastating fire which broke out on late Monday night at Bhaderwah. Four persons received injuries in the fire.
School upgraded
Jammu, March 11
A newly upgraded school at Nagrota was today inaugurated by BJP MLA Jugal Kishore who represents the constituency in the State Assembly.
Medical camp organised
Rajouri, March 11
The Army organised a medical camp at Neakka village here on Monday. People from Neakka and the nearby villages were provided medical treatment.