Metal rules the head of Sartaj Singh
Kusum Arora
Tribune News Service
Jalandhar, March 13
"Hobbies don't require time but passion to fulfil them," says Sartaj Singh Bhatia, an elderly in his sixties who is recognised from his rare collection of odd old coins and currency notes.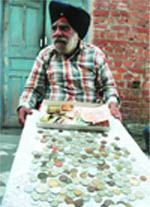 The man shows his rare collection of coins. Tribune photo: Pawan Sharma
Bhatia owns around 400 old coins representing different years, developments, religions, dynasties and much more. The zeal does not end here as he has collected more than 500 Indian currency notes in various series too.
Ask him how he started collecting these rare coins and he quips, "It was my mother who initially gifted me some rare coins and from then I developed it as my hobby".
The rare of the rarest coins that Sartaj owns, include Nanankshahi coin with a picture of Guru Nanak Dev and his two followers Bhai Mardana and Bhai Bala, Mughal dynasty coin, coin of Misr and a very old coin of Lord Shiva and Parvati, which according to him was made in the 19th century.
His treasure also includes Indian coins like ½ paisa, 1 paisa, takka, naya paisa, 10 paise, 1 anna, 3 paise and foreign coins too. "Besides, I have some foreign coins like peso of Finland, 10 cent of Africa, Canadian cent, penny of England and Pakistani rupee. The list of currency is exhaustive," said the proud numismatist.
A poultry farmer by profession, Sartaj does not confine his hobby to coins only. He has Indian currency notes of Rs 2, Rs 5, Rs 10, Rs 20 and Rs 50 with a similar number '786' written on it. Apart from this he has also collected denomination with '3663' written over them.
"This has almost become a part of my life. Whenever I get time I keep checking numbers written on notes. Now I am planning to collect Indian denomination starting with number 1 till number 1000," adds Sartaj, who owns a shop at Jandu Singha village near Jalandhar.
Talking about his rare possession, Bhatia said, "I have received numerous offers for my collection. In fact, recently an Amritsar-based family offered me Rs 2 lakh for my currency as collecting coins is my obsession".