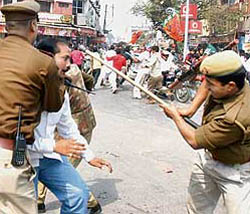 Policemen cane charge BJP workers demonstrating against CPM general secretary Prakash Karat at Hussain Ganj crossing in Lucknow on Thursday. — PTI
Fake Visa Racket
Indian beneficiaries may be deported
Chennai, March 13
The US today did not rule out deportation of Indians, who entered America through illegal means with the help of 200 south Indian film personalities, after a fake visa racket involving them was busted here.
US allays fears of cut in visas
Chennai, March 13
The US today allayed any fears of a cut in the number of visas to Indians, following the busting of a visa racket involving 200 South Indian film personalities and said it wanted more Indians to visit the country.
Kashmir refuses to disclose Pak mission
New Delhi, March 13
Kashmir Singh, who was released after 35 years in Pakistani jails, today refused to disclose why he went to that country and what he was doing there.
Jaya withdraws petition
Bhopal, March 13
Former Tamil Nadu Chief Minister and AIADMK supremo J. Jayalalithaa today withdrew her petition pending in the Supreme Court in a case related to the alleged evasion of income tax by her during the year 1996.
CBI probe into CD case
Centre yet to get letter from UP
Lucknow, March 13
The union home ministry is yet to receive a request letter from the Uttar Pradesh government for a CBI probe into the derogatory CD matter,says union minister of state for home Sriprakash Jaiswal. "The matter is very unfortunate and sensitive and would be considered very seriously", said Jaiswal here today.
UP Cong to hold general body meet after 26 yrs
Lucknow, March 13
While the party constitution prescribes a general body meeting every three years, the UP Congress is finally holding its two-day general body meeting once again at Kanpur after a gap of 26 years.
Dinhata Killings
Police, not CRPF, fired at protesters: Buddha
Kolkata, March 13
Chief Minister Buddhadeb Bhattacharjee today told the state Assembly that the police had resorted to firing during the Forward Bloc's agitation at Dinhata on February 3 for protecting the lives of government employees and state property against violent attacks by angry demonstrators.
Four killed in police firing
Guwahati, March 13
Four persons were killed and several others were injured when the police opened fire a mob at Bengtol near India-Bhutan borer in Chiran district of Assam today.
NHAI officials abducted
Guwahati, March 13
Works on the East-West Corridor project of the National Highway Authority of India (NHAI) in insurgency-hit north Cachar hill district of Assam came to a grinding halt today following the abduction of five persons, including three official of a construction company, by tribal militants.
Pawar for action against unlicenced moneylenders
Writes to CMs on farmers' loans
New Delhi, March 13
Union agriculture minister Sharad Pawar has asked all states to look into the matter of farmers' loans from private moneylenders, take action against unlicenced operators and ensure that licenced moneylenders do not exploit borrowers.
AICTE bars institutes from confiscating fee
New Delhi, March 13
Students seeking admission to management and engineering courses have some reasons to cheer, as the institutions would not be able to confiscate fees in case they decide to opt out to join another college to pursue better career prospects.
Bangalore airport launch delayed
Bangalore, March 13
The Airport Authority of India (AAI) has come to the rescue of air passengers of the city who were mulling how they would reach the new international airport that had announced its intentions to start operations from March 30. Though connectivity issues have been the focus of contention among calls to delay the launch of the new airport, it is technical issues that have delayed its launch.
Aamir's remark a compliment, says SRK
Mumbai, March 13
After his "rivalry" with Amitabh Bachchan hogged headlines, Bollywood superstar Shahrukh Khan is now involved in a repartee with screen idol Aamir Khan. Reacting to a recent swipe at him by Aamir, he said today he was happy to be called "No 2" of the Indian cinema.
IT searches at 7 places of Bharat Shah
Mumbai, March 13
The Income tax authorities are conducting searches at seven places, which belong to diamond merchant and Hindi film financer Bharat Shah in Mumbai.
5 killed over land dispute
Lucknow, March 13
Five members of a Dalit family were shot dead allegedly by members of the same community over a land dispute at Aminabad village in Etawah district today.



Videos
International airport in Hyderabad despite protests.
(56k)
A look at Bollywood's most stylish action films.
(56k)
Kangana Ranaut might star opposite Hrithik.
(56k)