M A I N N E W S
Sensex on Thursday
Down 770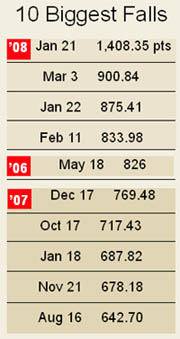 Mumbai, March 13
Global turmoil crippled the domestic stock markets today with the benchmark Sensex nosediving to six-and-a-half month low of 15,357.35 points in its sixth biggest fall of 770.63 points.
Market analysts attributed today's steep fall mainly to crude oil prices spiralling to record peak of over $110 a barrel.
Traders said industrial growth in India sliding in January was also major factor to weigh on the bourses. They further noted that today's turmoil in Asian indices indicated that US recession is now percolating across the globe.
The Nikkei closed at 2-1/2 year low, while other Asian markets ended sharply lower by 2.4 per cent-4.8 per cent today. European markets also opened weak by an average of nearly 2.5 per cent.
The BSE 30-share index opened with a wide downside gap of nearly 255 points and continued its slide to end 4.78 per cent lower at 15,357.35 — a level not seen since August 31, 2007 when it was closed at 15,318.60 points.
The S&P CNX Nifty of the National Stock Exchange also ended six-month low at 4,623.60, a fall of 248.40 points, or 5.10 per cent, over its last close.
Marketmen said an onslaught of selling gripped the market as soon it was opened. In across-the-board battering, only Hindustan Lever managed to close the day unscathed with a minor gain of 70 paise. Rest of the 29 shares ended in red, with DLF leading the pack with a loss of 14.87 per cent.
Among Sensex stocks, Reliance Communications, Tata Steel, Hindalco and Reliance Energy which lost in the range of 7-9 per cent followed DLF closely.
Other heavyweights such as L&T, ICICI Bank and Reliance Industries also figured among the prominent losers. They were down in the range of 4-6 per cent.
Indices of realty, metal and consumer durables bore the maximum brunt of today's assault with losses of 11.59, 8.38 and 7.83 per cent, respectively.
In fact, the barrage was so strong that all sectorial indices ended lower in the range of 2.0-11.6 per cent.
The market breadth was sharply negative as 2,332 shares lost ground while only 345 that gained.
The trading volume dropped to Rs 6,134.02 crore from Rs 7,215.42 crore on Wednesday. RIL topped the list of highest traded securities with a turnover of Rs 282.98 crore followed by RNRL (Rs 277.40 crore), HDIL (Rs 275.57 crore), RPL (Rs 204.45 crore) and REC Ltd (Rs 196.30 crore). — PTI