Juicy Details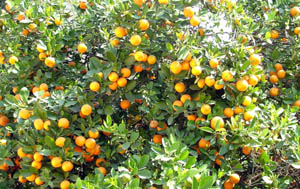 The bumper crop of kinnow has brought smiles on the faces of Amritsar growers. — Photo by Vishal Kumar
Bill Da Mamla
Govt offices' power supply snapped
Amritsar, March 14
In its drive against defaulters, the high-level squad of the Punjab State Electricity Board (PSEB) today disconnected the power supplies to government offices which have failed to clear long pending bills, despite repeated reminders.
Health Watch
Four-day fair to promote traditional Indian medicine
Amritsar, March 14
A four-day comprehensive health fair - Arogya - on Ayurveda, yoga, naturopathy, Unani, Siddha and homoeopathy, is being organised in Amritsar from March 15.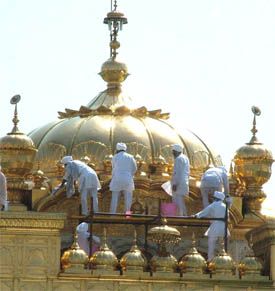 Devotees busy cleaning the Golden Temple. — Photo by Vishal Kumar
A new dimension to myth
Amritsar, March 14
With an aim to give an insight into the world of myth, which is considered as a significant social and mental event, Dr Kulwant Singh has penned down a book "Myth Rupakar".
Amritsar Chinmaya Mission turns 10
Amritsar, March 14 About a decade ago, an organisation Chinmaya Mission entered the holy city with an aim to give maximum happiness to maximum people for maximum time. Since then it is busy spreading message of vedanta and promoting values among the youth and children.
2 snatchers held
Amritsar, March 14 The district police today arrested two snatchers in two separate incidents while an accomplices of a snatcher managed to escape. The accused were identified as Rajpal Singh of Pritam Nagar and Kuldip Singh of Ranjitpura localities.