No ban on Blackberry services
New Delhi, March 14
Amid raging controversy over Blackberry operations by mobile service providers, the government today ruled out banning the service but said security aspects would be looked into.
Gold may touch Rs 15,000
Mumbai, March 14
The bull run in bullion continued with gold price rising to a new high at Rs 13,000 mark here today. Gold prices could touch Rs 15,000 mark this year, a top bullion industry official said.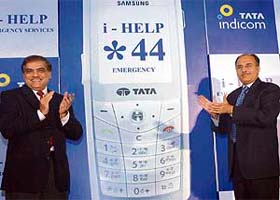 Anil Kumar Sardana, managing director, Tata Teleservices (R) with Pankaj Sethi, president, Value Added Services Business Unit, Tata Teleservices Ltd, at a press conference to announce the launch of i-HELP emergency services in New Delhi on Friday. — Tribune photo by Manas Ranjan Bhui
Nod to 18 FDI proposals
New Delhi, March 14
The government today announced the approval of 18 foreign direct investment (FDI) proposals that will bring in Rs 1,553.26 crore, including Rs 560 crore by Essar Capital Limited.
No FDI in retail sector: Pawar
New Delhi, March 14
The government addressed the fear that foreign direct investment (FDI) in the retail sector would dislodge small shops when the question was put forth to agriculture minister Sharad Pawar in Parliament today.
Farm debt waiver to be funded by tax revenues
New Delhi, March 14
The government today asserted that it has the buoyancy of tax revenues to meet the farm loan waiver commitments made in the budget. Finance minister P. Chidambaram said in the Lok Sabha while making a statement on financing the waiver of farm loan package that "we should be able to finance the package in each year out of the buoyancy in tax revenues alone.
Indian SMEs most optimistic in Asia: Survey
Chennai, March 14
Indian small and medium enterprises (SMEs) are among the most optimistic in Asia with 58 per cent expecting the local economy to accelerate in the next six months, according to a survey by HSBC.
Orissa approves 3 ultra mega power projects
New Delhi, March 14
The government today said three new ultra-mega power projects of 4,000 MW could be set up in Orissa, in addition to nine UMPPs already proposed across the country.
Sab Maya Hai
Billionaire's list, a deception, says Mukesh Ambani
New Delhi, March 14
Within days of being named richest resident Indian by the US magazine Forbes, Reliance Industries chairman Mukesh Ambani today termed the hype over list of billionaires from the country as 'Maya'.
Bank of M'rashtra opens forex centre in Panipat
Panipat, March 14
As a part of its expansion programme in North India, Bank of Maharshtra today launched its maiden foreign exchange services in the state.
It's recession: US economists
New York, March 14
Economists are increasingly certain that the US has slid into recession, according to a latest survey by the Wall Street Journal.



Videos
IOC, Maruti tie up for marketing lubricants
(56k)
BHEL bags $450 mn NTPC contract
(56k)