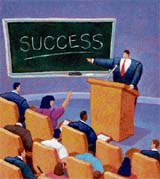 Corporates classrooms
What we have today is a growing skills gap reflecting the slim availability of high-quality college education in India. It has thus become imperative for India Inc and academia to collaborate for preparing a world-class, competent, talented and innovative workforce, writes Lokesh Mehra
Prime Minister Manmohan Singh had once mentioned that India needed to ensure greater availability of opportunities at the higher-education level so that we could have not just literate youths but skilled youths, with skills which could lead to gainful employment. However, he expressed concern about the fact that as a country endowed with a huge human resource, we cannot let the imminent shortage of skilled employees be a constraint to our development.
Career Hotline
Stage manage
Pervin Malhotra
Q. I am in my final year of graduation. I wish to join the National School of Drama. Can you please tell me about the selection procedure at the NSD, New Delhi? I am very interested in stage design but I have a polio-afflicted leg. Will I qualify? — Radhika Mehra
A. The National School of Drama (NSD), established by the Sangeet Natak Academy, offers a 3-year PG Diploma in Dramatic Arts which is recognized as equivalent to MA in Dramatics by the Association of Indian Universities (AIU).


Careercature
Sandeep Joshi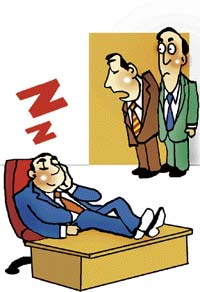 He really believes in our motto: only we can fulfil your dreams.

Loan rangers
S.C. Dhall
A proposed student loan body will facilitate sanction for the poor
Now that India is on the threshhold of becoming a knowledge superpower, the government has called upon the banks to provide sustained acceleration to realise the goal.
Power play at workplace
I.M. Soni
What is it you have that others want, so that you might try to get what you want from them? Money? Information? Some special expertise? Access to resources that are appealing to them?
Smart Skills
Engineered to succeed
Usha Albuquerque
It is said that while scientists discover the world that exists, engineers create a world that never was. The shape of the modern world has been credited to the advancements in science and technology. The engineering field has been the major contributory factor towards achieving the scientific marvels that have made our life easy. Practically everything we use from simple bicycles to airplanes and rockets, from highways to dams, from the radio to the modern blackberry—all are built by engineers.