Rodent Rampant
Small creatures giving big nightmares
Amritsar, March 21
Residents of Bagh Ramanand are having sleepless nights for many days. Their nightmare is big but the creature creating it is small. The rodents in the area are giving a tough time to the area residents, especially those in lane number 5.
Industrial Growth
Prog on cluster development organised
Amritsar, March 21
An awareness programme on the schemes of "Cluster development" for the benefit of the Industrial Associations, Industrial Units and other stakeholders was organised by Micro Small Medium Enterprises (MSME) Development Institute, Ludhiana, under the union ministry of MSME here recently.
Announce relief for farmers: Congress
Amritsar, March 21
The Punjab government should now announce the much-needed relief for the common man, especially waiver of farmer loans taken from arhtiyas, as the model code of conduct was no more in force following the postponement of panchayat elections.
Kidney Donation
Man claims not paid enough compensation
Amritsar, March 21
Though the fate of kidney scam unravelled in holy city few years ago is still to be decided, another case of kidney victim has come up to light. Satpal Singh alias Gora, resident of Khandwala, claimed that his right kidney was removed in 2000 without paying him enough compensation.
Tribune Impact
Encroachments on Mall, Lawrence roads removed
Amritsar, March 21
Taking a cue from a report published in The Tribune, the corporation's town planning department swung into action to remove the encroachments on Mall Road and Lawrence Road here.
Rural police goes tech-savvy
Amritsar, March 21
Revolutionising the working of rural police stations, the Amritsar (rural) police has taken a series of steps by computerising all the police stations and connecting these computers with the headquarters. The internet facility has also been provided at these police stations covering the entire rural belt of the district. Separate e-mail IDs have been enumerated to all the major police stations.
Clean & Green
Pollution monitoring centre at Ram Bagh mooted
Amritsar, March 21
Mission Aagaaz - Earth and Resources Care Group, an NGO, has proposed to set up a pollution monitoring centre at Ram Bagh, popularly known as Company Gardens, for getting actual figures on daily basis.
Man murdered: Wife, 2 others booked
Amritsar, March 21
The Ajnala police, falling under Amritsar (rural) police district have booked Gurmit Kaur, a resident of Talwandi Sabo, Jaswant Singh and Kala Singh, both brothers, for allegedly murdering Baldev Singh. Gurmit Kaur is wife of the deceased.
LPG supply to two agencies suspended
Amritsar, March 21
Hindustan Petrolium Corporation Limited (HPCL) has suspended the gas supply to SP Gas Service and SP Gas Distributor, Verka, with immediate effect.
3 held with 5 kg of heroin
Amritsar, March 21 The special narcotics cell here achieved a major breakthrough with the seizure of 5 kg of heroin and arrest of three smugglers and managed to unearth a major drug syndicate operating in the border areas of Punjab. The suspected consignment had the Pakistani origin on the packets.
Textiles meet on March 26-27
Amritsar, March 21
With an aim to boost the textile sector of the holy city, the ministry of textiles, government of India is going to organise the first ever buyer-seller meet on March 26 and 27.
NITCON holds faculty development programme
Amritsar, March 21
North India Technical Consultancy Organises, a private sector joint venture company with financial institutions, organised a faculty development programme here.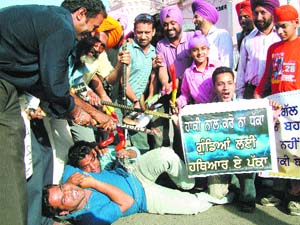 Idiot Club holds parody on Indian hockey debacle
Amritsar, March 21
The Idiot Club here put up a parody show to highlight the disastrous show of the Indian hockey at Santiago where the team was ousted from the qualifying round of the Olympic hockey to be held in Beijing this year.


Idiot Club members put up a parody show to highlight the Indian hockey debacle. — Photo by Vishal Kumar
Khalsa College convocation tomorrow
Amritsar, March 21
Punjab and Haryana high court chief justice Virender Jain would deliver the convocation address at the 102nd annual convocation of the Khalsa College, Amritsar, to be held on March 23.

Khanna heads dist NRI Sabha
Amritsar, March 21
J.P. Khanna has been elected president of the district unit of the NRI Sabha. Speaking on the occasion Khanna stressed on starting a "pre-paid taxi service" at Amritsar international airport in place of the present service which was very cumbersome and deceitful for NRIs, he said. J.P. Khanna
Leftists have double standards, says Tarun Chugh
Amritsar, March 21
Former Punjab BJP youth wing president Tarun Chugh today demanded that the Indian government should exert pressure on China to stop attacking the Tibetan people and their culture in the name of people's war, besides interfering in the internal affairs in Tibet.
Campus placements at ACET
Amritsar, March 21
In campus interviews organised at the Amritsar College of Engineering and Technology (ACET), 77 students of B Tech (electronics) from the institute were picket up by NR Switches and Radio Company.