Delay paddy plantation to check water depletion: PAU
Ludhiana, March 21
Experts in water resources management at Punjab Agricultural University have underlined an emergent need to ensure a postponement in the early sowing pattern of paddy, the biggest water drawer from underground, to wrest the fast-depleting reserves of water.
Training course on precision farming
Ludhiana, March 21
A two-day training course on precision farming for the scientists of Krishi Vigyan Kendras (KVKs) functioning in different parts of Punjab was organised in the university under the aegis of the Directorate of Extension Education here yesterday.
20 PAU workers given tips to deal with rodent
Ludhiana, March 21
A one-day training course on rodent control was organised in the university wherein director of extension education, Dr. N.S.Malhi was the chief guest.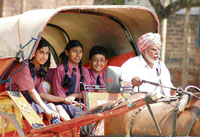 Wylie celebrates compassion day
Ludhiana, March 21
Wylie Memorial High School in association with Hope, an animal welfare society, and Darpan, school for autistic children, celebrated compassion day on the school premises yesterday.


Students of Wylie Memorial School enjoy a ride on a horse cart on the school premises in Ludhiana. — A Tribune photograph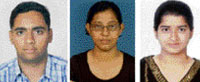 (L to R) Shiny Chalotra, student of Lord Mahavira Homoeopathic Medical College, Ludhiana, who stood first in the BHMS 2nd prof examination, Disha Wadhwa and Sonal Sharma of the same college who were bracketed second.
From Schools
Rising Stars kids celebrate Holi
Ludhiana, March 21
Rising Stars Kindergarten School celebrated Holi on the school premises yesterday. Principal Sonia Sharma told students about the importance of this festival. Students and staff members celebrated Holi with flowers and non-toxic colours.
Farewell function

Water conservation