Custodial deaths fifth highest in Punjab: NHRC
Swati Sharma
Tribune News Service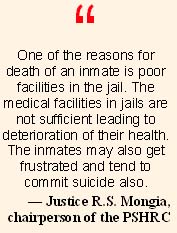 Chandigarh, March 21
It seems that the custodians of law are sleeping over the number of custodial deaths. If we go by the figures revealed by the National Human Rights Commission in their annual report recently, it clearly show that the men in khaki have not been able to keep a tab on the rising number of deaths in custody.
Uttar Pradesh tops the list of custodial deaths as per the latest NHRC figures. Surprisingly, out of the 277 custodial deaths in the state, 18 were in police custody while 259 in judicial custody. And this is despite the fact that when an accused is in judicial custody of the police, he cannot be interrogated.
And UP is not the only state where the number deaths in judicial custody are high. In almost every state, number of deaths in the judicial custody are higher than those in the police custody.
However, according to police officials, a large number of deaths in custody are natural deaths and the officials concerned cannot be held guilty for it.
Considering the data from 2000 to 2004, the count of custodial deaths has almost doubled in these four years. Bihar, Maharashtra and Andhra Pradesh follow UP in this dubious distinction. Punjab ranks fifth in terms of custodial deaths with the minimal death rate of 2.04 in 2003.
Though the death count in AP is noticeably low, the death rate in this state is very high which is as high as 8.9 in 2003-04 and it is followed by Maharashtra.
The Punjab State Human Rights Commission (PSHRC) had recently directed the Punjab government to give compensation of Rs 2 lakh to the family Jaswant Singh, an inmate who died in custody. The commission revealed that the inmate died due to consumption of a poisonous substance and thus the state was held responsible his death.
According to the chairperson of the PSHRC, Justice R.S. Mongia: "One of the reasons for death of an inmate is poor facilities in the jail. The medical facilities in jails are not sufficient leading to deterioration of their health. The inmates may also get frustrated and tend to commit suicide also." Overall, there were 1,591 deaths of inmates in judicial custody while 139 died in police custody.