Sonia dedicates tulip garden to nation today
Srinagar, March 28
Kashmir's flori-marvel and Asia's largest tulip garden, "Siraj Bagh" spread over five hectares in the foothills of Zabarwan, overlooking the Dal Lake, will be thrown open to the public tomorrow. The UPA chairperson, Sonia Gandhi, will dedicate the garden to the nation as a mark of the beginning of spring in the valley.
Tiny tots enjoy tulip fest at Siraj Bagh on the outskirts of Srinagar on Friday. — Tribune photo by Mohd Amin War
BJP rakes up 'old issues' to regain lost ground
Udhampur, March 28
To regain its lost ground before the coming Assembly elections, the Bharatiya Janata Party (BJP) has started raking up "abandoned" issues like abrogation of Article 370 and discrimination with Jammu region and with Hindus in the state.
We need no certificate from BJP: NC
Jammu, March 28
Reacting sharply to the statement of BJP leader Chaman Lal Gupta, Jammu province president of the National Conference (NC), Ajay Sadhotra, today said Gupta had realised that his party had lost its image and in a state of frustration, he was trying another way out.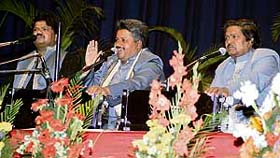 Sayeed Farid Sabri, who has sung qawalis for a number of Bollywood films, performs at the Gen Zorawar Singh Auditorium at Jammu University on Friday. — Tribune photo by Anand Sharma
Create 5 more districts in Jammu: BJP
Jammu, March 28
The state BJP today urged Chief Minister Ghulam Nabi Azad to create five more districts in Jammu province so as to give the region its legitimate share. State BJP vice-president Prof Hari Om said this would surely go a long way in removing animosity between Kashmir and Jammu and would harmonise inter-regional relations.
Fake PRC racket hits job avenues
Jammu, March 28
Refusing to die down, the ghost of fake permanent residents certificates (PRCs) is also taking its toll on the job avenues of natives of Jammu and Kashmir. After managing fake PRCs, a considerable number of non-state subjects have not only succeeded in getting jobs in different state government departments but also have acquired immovable property in the state.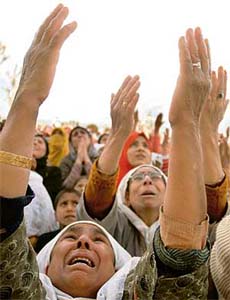 Emotions pour out when a priest shows a relic, believed to be a hair from the beard of Prophet Mohammed, at the Hazratbal Shrine in Srinagar on Friday.
— Tribune photo by Mohd Amin War
Update farming with latest techniques: Sinha
Jammu, March 28
Governor Lt-Gen S.K. Sinha (retd) today called for enriching knowledge of farmers on latest farming techniques and transferring agriculture research to the fields for optimum productivity.
Cocoon growers hold protest
Udhampur, March 28
To lodge protest against apathy of the state government, the cocoon growers today took out a procession in Udhampur town. The procession passed through different bazaars and culminated in front of the office of the deputy commissioner.
Power, water shortage draw protest
Rajouri, March 28
Villagers of the four villages on the outskirts of Poonch town held massive protests to voice their anger over shortage of drinking water and electricity. Protesters, including women and children of Kerni, Kasba, Banwat and Dhokri villages just a few kilometres from Poonch town.
Hot water spring dries up after quake
Jammu, March 28
Famous hot water spring known for its medicinal value in Tatapaniin Kalakote tehsil in Rajouri district has dried up completely after the October 8, 2005, earthquake. Investigations carried out by the Department of Geology and Mining soon after the tremor measuring 7.6 on the Richter scale rocked the state had revealed that hot water spring dried up in the area as one of the post- earthquake effects.
HC provides relief to aspirants of prosecuting officer post
Jammu, March 28
The Jammu and Kashmir High Court on Wednesday in a decision quashed stipulation of maximum age limit of 30 years provided in advertisement notice dated October 25, 2007 inviting applications for the post of prosecuting officer in J&K Police while allowing 23 writ petitions filed by aspirants and directed respondents to allow candidates including petitioners.
Share capital of SC/ST corporation enhanced
Jammu, March 28
Giving further fillip to its activities, the board of directors of State SC/ST and OBC Corporation has enhanced share capital of the corporation from Rs 20 crore to Rs 30 crore. The board, which met here yesterday under the chairmanship of social welfare minister Abdul Gani Vakil, also released 17 installments of cost of living allowance in favour of its employees that would be remitted to them prospectively from April 1.
Govt's claims false: YNC leader
Rajouri, March 28
The claim of the present coalition government of laying out vast network of roads and road connectivity even in the remote areas of the state and undertaking mass development is just a "publicity stunt" to befool the masses, said Aijaz Ahmed Jan, Provincial Secretary Jammu and Kashmir Youth National Conference, while addressing meetings at Salotri, Jallas, Chandak in villages of tehsil Haveli in Poonch.
Gujjar advisory board members threaten to quit
Rajouri, March 28
Charging state social welfare minister with indulging in favoritism in utilisation of the tribal sub-plan, about half a dozen board members of the Jammu and Kashmir Gujjar and Bakkarwal Advisory Board of this district have threatened to resign.
Two armymen die in road mishap
Srinagar, March 28
Two Army personnel died while seven armymen were injured in different road accidents in the Kashmir valley, the police said today. An Army vehicle of 16 Bihar Regiment skidded off the road near Nawagabra Karnah, Kupwara, causing death of naib subedar Satinder Yadav, sepoy Naval Kishore and injuries to seven person of this unit and a civilian porter.
Fire at CRPF camp
Srinagar, March 28
Fire erupted at a CRPF Battalion camp today afternoon which, a spokesperson said, was caused by short-circuit and extinguished soon after. He said the fire in Shivpora, where its 172 battalion is camped, caused material damages but no human injuries.
Hideout busted
Rajouri, March 28
The Army today busted a militant hideout and recovered a cache of arms and ammunition including one kg explosive material in Manjakote area. Defence sources said on a tip-off, troops of 38 RR busted a militant hideout in forest of Dorimal in Manjakote area.