Tulip Country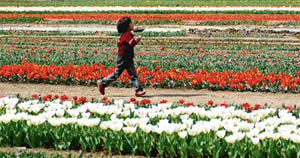 A little girl romps through rows of tulips at Asia's largest tulip garden in Siraj Bagh, on the outskirts of Srinagar on Saturday. Congress president Sonia Gandhi later inaugurated the garden. — Tribune photo by Amin War
Assembly Poll
People feel disillusioned with parties
Jammu, March 29
While political parties in the state are gearing up for the upcoming Assembly elections and have started wooing people to vote in their favour, people are of the opinion that no political party was addressing their "genuine grievances".
Security forces fear rise in infiltrations
Jammu, March 29
With snow in the upper reaches starting to melt, security forces deployed on the line of control (LoC) fear that there could be a sudden rise in infiltrations from across the border.
Infiltration has declined: DGP
Jammu, March 29
The police claims that the number of militants operating in Jammu and Kashmir had declined during the past three years. This is indicated by the fall in the number of killing of militants in operations launched by security forces.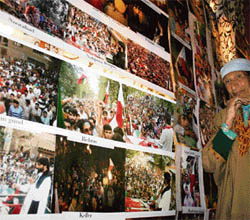 Photo exhibition on Safar-e-Azadi
Srinagar, March 29
JKLF chairman Yaseen Malik today launched a photo exhibition of "Safar-e-Azadi", a 114-day long journey by his party across the valley to garner public support for its pro-freedom ideology, and said India and Pakistan should take people of Kashmir in confidence before they reach a solution over it.



A Kashmiri woman looks at pictures during an exhibition at Sir Mohammad Iqbal convention centre in Srinagar on Saturday. — A Tribune photograph

PDP for special educational zone
Srinagar, March 29
Welcoming the central government's decision to establish one of the five newly proposed Indian Institutes of Management (IIM) in Jammu and Kashmir,the PDP today reiterated its demand for declaring the state a special educational zone (SEZ).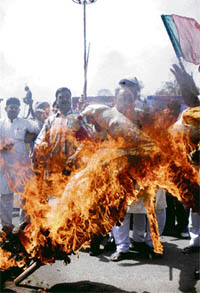 RSS activists burn an effigy of Kerala's Communist government in protest against the attack on Hindus in Jammu on Saturday. — Tribune photo by Anand Sharma
Mehbooba calls on Zardari in Islamabad
Srinagar, March 29
The PDP president and MP, Ms Mehbooba Mufti, has said the stabilisation of the political situation in Pakistan had rejuvenated the hope for peaceful and amicable settlement of the Kashmir issue with greater impetus on the Jammu and Kashmir-specific confidence building measures.
Degree college sought
Udhampur, March 29
Residents of Thatri tehsil of Doda district have demanded opening of a degree college at Thatri and appointment of a gynecologist in the sub-district hospital as patients have been facing lot of hardship due to non- availability of specialist doctors.
Revision petition dismissed
Jammu, March 29
Justice Virender Singh of the Jammu and Kashmir High Court today dismissed the revision petition directed against the judgement of Session's Judge, Poonch, dated August 2, 2005, filed primarily with regard to acquittal earned by accused of main charge of Section 302 of the RPC, who were sentenced for lesser offences.
Chairpersons hold talks with Sinha
Jammu, March 29
Chairpersons of various public service commissions called on Governor Lt-Gen S K Sinha (retd) at Raj Bhavan and had an informal interaction on various issues.
Srinagar-Leh highway to open soon
Srinagar, March 29
The Border Roads Organisation (BRO) in Jammu and Kashmir is working against odds in tough terrain to throw open the snow-blocked Srinagar-Leh highway linking Ladakh region to rest of the country.