Thursday, April 3, 2008, Chandigarh, India
Updated at 3:00 am (IST)

Tikait arrested, gets bail
Lucknow, April 2


After a three-day drama, BKU leader Mahendra Singh Tikait today reportedly surrendered before the chief judicial magistrate in Bijnore and was granted bail on a surety of Rs 20,000 by the sessions court. While Chief Minister Mayawati claimed to have arrested the BKU leader from his native village, Sisauli in Muzffarnagar district, this morning, reports suggest otherwise. Mahendra Singh Tikait: Regrets caste slur
After Tibet, Uighurs rise up in protest against China
Beijing, April 2
China has accused Muslims in the nation's northwest of trying to start a rebellion, following what an exile group said were peaceful protests against injustices under Chinese rule.
Burney lights up Sarabjit's village
Bhikhiwind (Tarn Taran), April 2
Ansar Burney was treated like a saviour of Indian prisoners lodged in Pakistani jails on his arrival at Sarabjit Singh's house here today. Sarabjit is on the death row in a Pakistan jail.



Will sacrifice life to save Sarabjit: Burney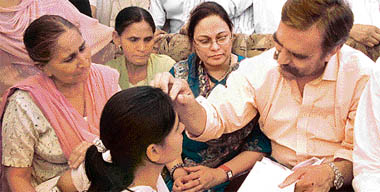 Ansar Burney, member, UN Human Rights Council advisory committee, with Sarabjit Singh's family at Bhikhiwind. — Photo by Vishal Kumar