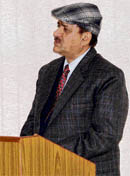 Now farmers can set up agro units
The opening up of the Van Vigyan Kendra (VVK), the first of its kind in the state, to train and sensitise local village communities will come in handy for villagers, NGOs and mahila mandals and those interested in setting up their own forest-based agro industries and herbal gardens for medicinal trade, which has a vast potential.



Dr Mahinder Pal — A Tribune photograph

Vignettes
Honeymooning with Shimla Honey
'State Tax be such which should not prove to be a burden on the subject; the King should behave like those bees which collect honey without causing harm to the flowers', says Sage Vyas in Mahabaharat (see sketch).
18 years on, bus stand lies incomplete
Water logging at the local bus stand during rains has become a matter of concern. Despite the fact that over Rs 2 crore was spent on the construction of a new bus stand two years ago, the situation has not improved. It becomes quite difficult for passengers to approach the ticket counters because of waterlogging in and around the area, especially during the rainy season.
Admn accused of favouring cement mafia
The Sundernagar Sangarsh Samiti accused the administration that it was favouring the cement mafia and ignoring the wishes of public and all this is being done in order to please some of the political persons.
Plan to tame monkeys may go kaput
The Forest Department's pilot scheme to combat monkey menace by setting up primate protection parks has run into rough weather with the highly urbanised simians losing out to their counterparts in the wild in troop warfare.
STEP OUT
Rocking among boulders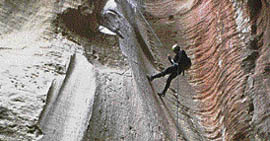 THE end of winter and the short Indian spring is the best time for rock climbing. The daytime temperature outdoors is pleasant; it's not too cold or windy, and you can enjoy climbing with the sun on your back as you swarm up an easy rock face or muster strength and technique to surmount a difficult one. In the middle of a day of rock climbing, you can take a break and unpack your lunch.
Shimla diary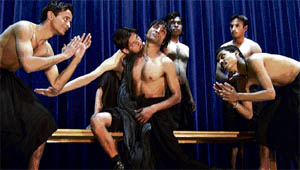 Capital in need of auditorium
The three-day theatre festival here not only gave an opportunity to budding artistes to perform, but it was a treat for those who crave for good presentations, as they have become a rarity these days.

Artistes perform a play, Pishaach, at the three-day theatre festival to mark World Theatre Day, at Portmore School in Shimla. — Photo by S. Chandan

CITIZEN FIRST
Gynaecologist needed
Kotgarh Civil hospital caters to the panchayats of Kotgarh, Mehlan, Jarol, Khaneti, Mangsu and Madhawani. Around 7,000 population is being treated by only one MBBS doctor in the region. He handles all the maternity cases. The paramedical front is also understaffed and one more doctor is urgently required to relieve the workload of the doctor.