Mandi's historic stadium turns into venue for political slugfest
Tug of war
Kuldeep Chauhan
Mandi's Paddal stadium that has been a bone of contention for two rival lobbies of the District Cricket Association has now emerged as an important political venue. The stadium recently witnessed rivalry both between the cricket bodies and a strength show of political parties.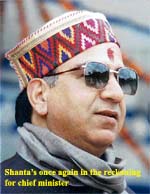 Bold Talk
Yes, Minister
Kulwinder Sandhu
Senior BJP leader Shanta Kumar once again has taken the centrestage of state politics. Born on September 12, 1934, he served the hill state as the chief minister twice and also as a minister in the Union government. He has also written many books. He was barely 19 in 1953 when he courted arrest during Dr Syama Prasad Mookerjee's Kashmir Andolan. With a political career spanning more than five decades, he was one of the founder members of Bharatiya Jana Sangh and member of its national working committee.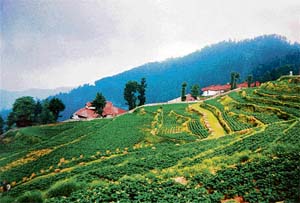 vignettes
Ode to the potato
Ever thought how the popular aloo came to India? Trace the history of the tuber which is a fave of the masses and classes alike
by Shriniwas Joshi
The United Nations dedicates next year to the tuber that is a delicacy in the plates of the rich and the thalis of the poor alike. It shall be the International Year of the Potato. Potato existed in Chile and Peru in 500 B.C. The Incas called it 'Papa' and so Peruvian potato dishes start with this word, e.g. Papa relina. Potato has been the favourite of many a writer and artiste.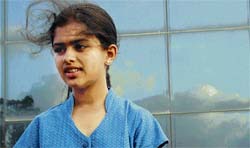 She's done it!
Shimla girl Shreya Sharma's film Mahek wins the best feature film award at Arpa
Pratibha Chauhan
After having made her mark as a child artiste in Blue Umbrella, Shreya Sharma's second film Mahek has won the best feature film award at the Arpa International Film Festival, 2007, Hollywood. Currently busy with her class nine final examinations, Shreya's happiness knows no bounds as she couldn't have asked for a better start to her film career.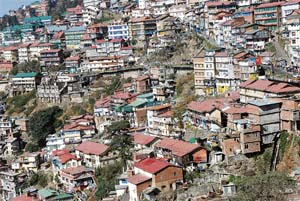 Paint me red...
An unwritten law during the Raj days, painting rooftops a uniform colour is an arduous job for the Shimla MC now!
Pratibha Chauhan
The initiative to restore the lost glory of the 'Queen of Hills' has once again become victim of legal and procedural wrangles. Despite the court directives large number of rusty rooftops in the town have still not been coated with fresh red or green paint. It was following a public interest litigation (PIL) that the High Court had some time back directed that as a beautification measure and to have some uniformity.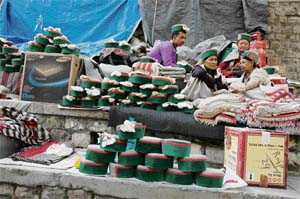 SHIMLA Diary
Poor show at Lavi
Rakesh Lohumi
Sans political VIPs, the International Lavi Fair was a low-key affair this year. The assembly elections and a delayed Diwali seems to have affected both the turn out and volume of trade at the largest traditional fair of the region. While the Kinnauri section, where raw wool, pashmina wool, kala jeera, dry fruits and traditional items are sold, was fully occupied but the stalls for traders from plains who carry out roaring business during the fair went abegging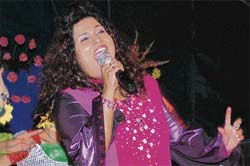 Making a mark
Dharam Prakash Gupta
From a naughty girl keen on making it big in playback singing to International Woman Award winner, famous playback singer Hema Sardesai has come a long way. Singing for films was her dream, but born in a family of doctors it was difficult for her to convince the family about her intentions to sing in films, as her parents and other family members were staunchly opposed to it.
Musical Treat
Dharam Prakash Gupta
It was a cultural extravaganza at Hill Fair 2007, an annual cultural festival, organised by National Institute of Technology (NIT) campus Hamirpur, which concluded on November 4.
Over 100 scientists, industry representatives & progressive farmers emphasise the need to devise eco-friendly plant disease control
Save crops, switch to biopesticides
Ambika Sharma
Emphasising the need to devise eco-friendly disease management approaches Jagmohan Chauhan, vice-chancellor Dr Y.S.Parmar University of Horticulture and Forestry Nauni, said there was a need of alternative approaches for disease diagnosis and control. He was delivering his inaugural address at the annual meeting of Indian Phytopathological Society and symposium on eco-friendly disease management approaches for organic farming in horticulture crops.