AN innocuous looking MP3 sound file may be carrying a hidden video clip training on how to make a bomb or rocket launcher. An image of a unsuspecting celebrity could be hiding a text message from a terrorist engaged in subversive activities. With the hi-tech terrorists increasingly using information technology, security agencies are daily confronted with new challenges for which their personnel have to be updated on a regular basis.




As cyber crime goes white-collared, security agencies turn to forensic techniques
Inheritance of loss


THE findings of a survey conducted in government schools by a Hamirpur-based NGO Trisha working in collaboration with Indian Medical Association has come out with disturbing figures. It reported that 73.39 per cent girls under 16 are anaemic, 19.86 percent are on the borderline and only 6.75 had the normal Hb level. IIt rather comes as a shock when our governments are talking loud about women health and several programmes have been launched by central and state governments to check malnutrition and create awareness among females.
vignettes
A man with many faces
MANY who climbed the Gaiety stage in Shimla remained amateur in acting and made their mark in a field other than acting. Rudyard Kipling won laurels for his writings, Baden Powell got associated with cubs and scouts, Newnham Davies was a writer army-man but Manohar Singh rose to starry heights on stage.
Doc with a difference
This doctor and poet attempts to discover spirituality and spiritual health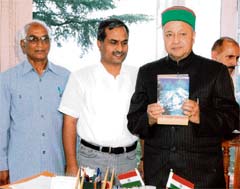 AMONG his medical fraternity, Dr Sanjay Pathak can be called a "spiritual bard of ward." His collection of poems — Thought sublimates, was recently released by chief minister Virbhadra Singh. It traces Pathak's poetic journey from emotional reaction to pangs and pains of patients to present day social problems like female feticides, HIV/AIDS, the breaking down of the family system et al. Born in a humble family in Mandi, Pathak as a first timer has attempted to toy with an idea and then create something new. The poems are dry and they lack a soothing touch of a caring nurse.
Ray of hope
The IAMD camp brought relief for patients of muscular dystrophy
The fifteenth annual All-India Medical Awareness camp brought the much-needed healing touch for patients of muscular dystrophy. Chief minister Virbhadra Singh announced setting up of Manav Mandir and an aid of Rs 5lakh at the three-day camp. The camp organised by the Indian Association of Muscular Dystrophy (IAMD) sees patients from all over the country coming together to share their experiences.
Shah Nehar: The wait is on
The farming community in the foothills of Kangra district in bordering areas of Nurpur and Jawali sub- divisions has rued slow progress in the Shah Nehar Project. The project is likely to benefit farmers in 93 villages by providing irrigation to 15287 hectares of land. With an initial estimated cost of Rs 143.32 crore, the project is being funded by Himachal and Punjab governments in the ratio of 38.26 and 61.74 percent, respectively. The former government is executing the construction of the project.
shimla diary
Mission Restoration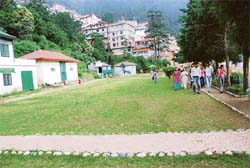 IT is probably for the first time that the local administration has involved the army authorities in beautification of the erstwhile summer capital of the British. The district administration held a meeting with senior army officials here and identified certain areas to be maintained by the latter. The faujis known for keeping their cantonments and other areas absolutely spick and span too are keen to pitch in. This would be besides the efforts being made at the higher level to undertake conservation and preservation of the rich heritage of the town, which has been a host to many historic events.
God's blessings in a new avtar
Prasad may mean God's blessings to you, but it's beginning to imply economic uplift for some


Religion has been the major driving force behind the dynamics of social change in our country. Be it politics or society, every thread of our social fabric has a religious flourish. However, the religion that holds such a high position in life, offers little to the country's economy. These were the sentiments that propelled Dr Anil Joshi, running the Himalayan Environmental Studies and Conservation Organization (HESCO) in Uttranchal, to successfully motivate people to earn their livelihood by organising tasks like preparation of God's offerings (prasad) into a small scale industry.
Chamba's Chowgan to regain lost glory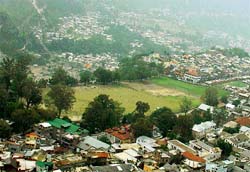 Chamba's Chowgan is getting a facelift with the government actively involved in restoring the glory of this public promenade. It stands on a plateau on the right bank of river Ravi near the junction of the Sal rivulet with the Ravi in the bosom of the Himalaya Mountains. It is a beautiful grassy sward. In addition to being a public promenade and place of recreation, it was at the Chowgan that state durbars used to be held.
Fight for rights
Equal opportunity and social inclusion are understood only as hyperbolic expressions by the majority among nearly 1.5 lakh persons with disability in the state.
Life on the narrow gauge
Residents irate over the dilly-dallying stance adopted by the railways ministry
THE peace loving people of the state are irate over the delay in expansion of three railways projects — Bhanupali-Bilaspur, Nangal-Talwara broad gauge rail link and Pathankot-Jogindernagar narrow gauge line.