Surrender to the charms of nature
Pack your bags and reach Kufri — a small town nestled in the laps of the gods. On a clear day, the entire range of snow peaks, right from Badrinath and Kedarnath in Uttar Pradesh to Pir-Panjal in Kashmir is visible.


Vignettes
Kalpa, next to Eden
When Shimla gradually started earning the position of the seat of the Government of India, Lord Dalhousie, governor general from 1848 to1856, named it 'his eyrie from which to watch the newly annexed plains that stretch below'.


Hotel Kinner Kailash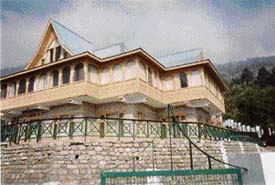 Orphaned by AIDS, they live in stigma
Children of a lesser god
"There is a need to mobilise the community on the plight of children orphaned by AIDS. No one comes forward to hear the voices of these innocent lives," said Deep Mala, state in-charge of Francois-Xavier Bagnoud (FXB), an international NGO working for children orphaned by the syndrome.


The good ol' school days
Kailashnath Sud recreates the magic of St Edward's School, as it was
Nostalgia gripped me as I went past the St Edward's School, for within those gates I had enjoyed the best time of my life, carefree like a bird on a tree. Down the memory lane, day one in school, crying and holding on to the skirts of lower KG teachers, Miss Stella Andrew and Miss Salima, going through school and coming out as a teenager. 'Ready to take on the world, for a career'. Wow! What a wonderful experience it was!
Shimla Diary
Kareena & Shahid sizzle
Come summers and the various picturesque locations in the state are thronged by film units. While large banners do prefer locales abroad for the convenience and hassle-free atmosphere but there are some who have a penchant for Himachal.
Cherries keep apples at bay
Growers in the state's apple bowl give the delicious fruit a miss
Cherries are replacing the Kotgarh's trademark deliciously sweet apples on their home turf. Bhutti panchayat has emerged Numero Uno in cherry cultivation and boasts of the largest cherry output in Shimla district.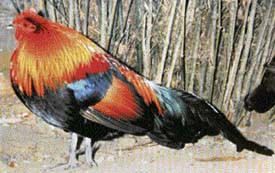 Genes matter
Genetically pure red jungle fowls sighted
The secluded hills in the interior of Himachal Pradesh may provide an answer to the ever-elusive search for pure blood red jungle fowl, widely believed to be extinct in the wild. Large-scale cross breeding with the domestic fowls and other similar fowls over the years has almost completely wiped out the genetically pure bird.
Hamirpur develops as a coaching hub
Hamirpur has developed as a coaching hub for students preparing for engineering and medical entrance exams. More than a thousand students come here every year from different parts of the state to take coaching classes. And, hundreds have already secured themselves admission in various prestigious institutions of the country, after attending crash courses here.
BIG PICTURE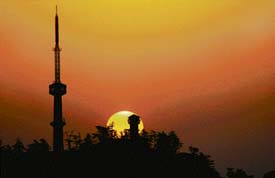 PRETTY AS PICTURE: The colour of the setting sun blends with forms of the earth to paint a dream-like sequence
BPOs hesitant to expand in state
BPOs have a distinctive work culture. They are marked by late night working hours, open space for huge offices and IT trained manpower; all this is missing in state feels the BPO professionals. Though the state's IT department has made a small start in roping the Business Process Outsourcing (BPOs) companies in Parwanoo and Solan, the BPOs are hesitant in moving to Mandi and Dharamshala as Himachal people are not used to its work culture.
A ray of hope
Residents of Gummer village are fiercely protective towards their surroundings
A visit to Gummer village is a refreshing sojourn. It is close to the famous Jwalaji temple in Kangra district. There are distant mountains, forests, fields with luxuriant crops and natural vegetation. The place is blessed pure air and a clear sky.
Nahan's tourism potential unexploited
Though Nahan has a number of tourist spots still it has not been exploited by the Tourism department, finds out Vidya Rattan Sharma
Though Nahan has a number of tourist spots still it has not been exploited by the Tourism department, finds out Vidya Rattan Sharma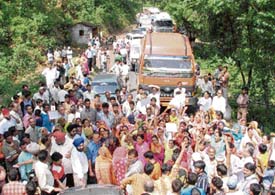 WomAn Power
Women of Sirmour leave their kitchens to fight against opening of liquor vends
In an unprecedented development for the first time in the history of Sirmour, rural women who generally spent their time in 'chulla-chowka' and 'ghas- pani', are up in arms against the setting up of liquor vends.
Dumping ground
Debris is being dumped along roads
Caring two-hoots about environmental degradation, tonnes of debris are being dumped along the roads by builders. The trend has been going on unchecked for quite some time now.