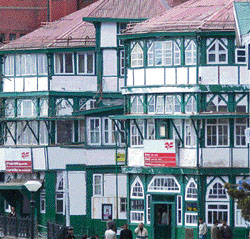 vignettes
From dawk to Speed Post
by Shriniwas Joshi
Dawk is how the British used to spell dak or post. The post to Shimla was ceremoniously transported by Dawk Gadis (post carriages) pulled by Kabul ponies in two relays on the 58-mile stretch between Kalka and Shimla after 1857 — the year in which the present Kalka-Shimla road, then called New Cart Road was thrown open for the tonga or ekka.



Standing tall: Post office building in Shimla. Photo: Anil Dayal

Water from Giri to quench Shimla's thirst
Environmental degradation due to unregulated expansion of Shimla has made adequate supply of water for the residents a big challenge for the Irrigation and Public Health Department. The fast depleting water resources and the ever-increasing demand has forced the municipal authorities to tap more dependable water sources like the Giri River.
Scientists fetch laurels
Three scientists of Dr Y.S. Parmar University of Horticulture and Forestry, Dr Rakesh Sharma Dr B. B. L. Kaushal and Dr P. C. Sharma, have done the university proud by bagging two prestigious national-level awards in New Delhi recently.
On a trip down memory lane
Alumni of the Sainik School, Sujanpur, took a trip down memory lane last Saturday as 30 members of the sixth batch of 'Sujanians' converged on the small town of Hamirpur, accompanied by their spouses and children to be a part of the re-union. Old classmates met after a gap of 15 years.
shimla Diary
Decentralise power: Khullar
The new Principal Chief Conservator of Forests, Dr Pankaj Khullar, plans to decentralise the functioning of the department to ensure optimum utilisation of the Army of officers at the headquarters.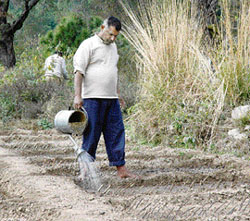 Going herbal
With farmers in Hamirpur district fast turning to cultivation of medicinal herbs by setting up nurseries on small chunks of land, the Sub-Tropical Herbal Nursery of the Ayurvedic Department in the Neri area of Nadaun sub-division is playing a significant role in helping them choose the right plants. Farmers, who were limiting their cultivation to only tulsi and amla till now are going in for a whole range of medicinal plants. These include herbs like ashwagansha, shatawri and sharparni, which are used in preparation of ayurvedic tonics, besides punarnawa, an ingredient in medicines for treatment of jaundice and patol patra known to be an effective anti-acid.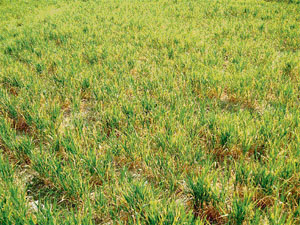 Dry spell spells doom for rabi
Farmers' hope to harvest a good Rabi crop has been dashed this year. The two-month-long 'dry winter spell' in the state has damaged over 25 per cent of the Rabi crops like wheat, barley, vegetables, oilseeds and pulses in Mandi. But the dry spell has not damaged fruits and apple crop to that extent as February may bring in a bounty of snow or rain-fall as it has happened in 1998, say scientists.
Power crisis hits industry
Power crisis in the industrial belt of Baddi - Barotiwala - Nalagarh and Parwanoo has come as a major shock for the industrialists in this winter season. Unprecedented power shortage has virtually crippled industrial work. Though shortage of power was a common affair during winters in the state but prolonged dry spell causing negative impact on power generation has badly affected the power availability for the industries in the region.