PUNJAB

HARYANA

JAMMU & KASHMIR

HIMACHAL

REGIONAL BRIEFS

NATION

OPINIONS

MAILBAG

BUSINESS

SPORTS

WORLD


Icing on the cake
Shimla is a popular honeymoon destination and you will find the couples there no matter what season and hoteliers pamper them with packages and discounts, says, Roshni Johar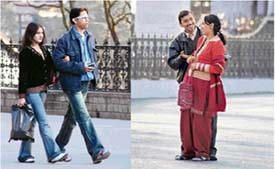 Apart from weather, Shimla has another season, namely honeymoon season, bestowed by Marriage Gods and pundits.


LOVE IN SHIMLA: Snow or no snow, Shimla still remains the favourites destination for honeymooners. — Photos by Anil Dayal

The Green Monster
With the increase of tourists and vehicular traffic, the 'Valley of Gods' has become highly susceptible to the Green House Effect, reports Kuldeep Chauhan from Kullu
The visitors' impression that the 'Valley of Gods' smells like a cold Chandni Chowk is a reality. The National Highway-21 that opened flood gates for mass tourists in the 1960s has imported vehicular pollution.
Karate kids
Purists may say that the true spirit and art of Karate is losing its original sheen but they also believe that karate is on its way back, catching the fancy of youngsters all over again.
| | |
| --- | --- |
| | January 24, 2007 |
| | January 17, 2007 |
| | January 10, 2007 |
| | January 3, 2007 |
| | December 27, 2006 |
| | December 20, 2006 |
| | December 13, 2006 |
| | December 6, 2006 |
| | November 29, 2006 |
| | November 22, 2006 |
| | November 15, 2006 |
| | November 8, 2006 |
| | November 1, 2006 |
| | October 25, 2006 |
| | October 18, 2006 |
| | October 11, 2006 |
| | October 4, 2006 |
| | September 27, 2006 |
| | September 20, 2006 |
| | September 13, 2006 |
| | September 6, 2006 |
| | August 30, 2006 |
| | August 23, 2006 |
| | August 16, 2006 |