vignettes
Shimla's Jennyrickshaw
Jennyrickshaw, borrowed from Japan is the original name of a rickshaw. Japan saw its first 'Jennyrickshaw' in 1868-70. It was pronounced as jin-ricki-sha signifying 'Man-Strength-Cart'. In Shimla, a rickshaw-man's strength was to develop 'winds' in the chest to pull the cart in deep ascents and descents and his ability to run in step with other pullers.
WHEELS OF TIME: Shimla's Jenneyrickshaws are a relic of the colonial past
shimla Diary
Tough challenge for Forest Minister
Will the Forest Minister, Mr Ram Lal Thakur, be willing to contest from the Hamirpur Lok Sabha seat for the third consecutive time after the unseating of the BJP, MP, Mr Suresh Chandel, who had trounced him twice?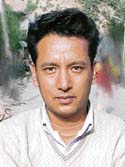 Bard champions tribal cause
He represents local Hindi bards championing cause of tribals, including their rich art, culture and literature. In fact, Hindi poetry is taking up a new form in its own silent way in an unlikely place in Himachal Pradesh in the landlocked snowbound Lahaul valley. The poet championing the cause and feelings of snowy Lahaul valley is Ajey, a young bard, whose poetry has hit the national poetry though what he calls a modern innovative medium of Internet and live Kavi Sammelan including several Hindi magazines and journals. Ajey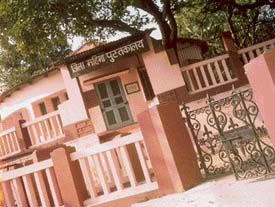 A graveyard of books
It is one of the oldest libraries in the region. It was set up at Nahan to perpetuate the memory of Princess Mahima, who had a passion for books and wanted to inculcate the reading habit in the people.
Freedom fighter honoured
Every hand clapped and all eyes were wet with emotion as 86-year-old freedom fighter Bagh Singh made his way up to the dais to be honoured by former Union Minister, Shanta Kumar, during a function organised by Vivekananda Kendra, a spiritually oriented service Mission, in connection with his144th birthday of celebration in the auditorium of the local Govt.