Apples at receiving end, again
Fluctuating weather dashes hopes of bumper harvest this year
The soaring mercury and last fortnight's hailstorms in the upper hills of the state have ruined hopes of a bumper apple harvest this year.


shimla diary


Self-confidence key to empowerment
Himachal may have been one of the leading states in female literacy but it is lagging as far empowerment of women is concerned. They continue to play a secondary role mainly because of lack of self-confidence and motivation. This was the crux of the four-day workshop on women empowerment organised held at St.Bede's College.


Tribune photo
Seat of learning Divine venture
Pursue academic and spiritual learning in the town of Baru Sahib
The Kalgidhar Trust will be laying the foundation stone of a privately funded Sikh Akal University during October-November this year. The envisaged university would be located at Baru Sahib. For research and development, a memorandum of understanding has been signed with Wayne Sate University, USA.
Rush Hour
It is the combination of poor traffic management, encroachments and lack of road discipline, which has earned Solan's Mall Road the sobriquet — 'a driver's dilemma'. Though the district administration has made several attempts to enforce traffic sense but has not succeeded in instilling the desired discipline.
Places of a lesser god
Lack of initiative from the government and local people have kept many pilgrimage spots outside the tourism map.


Eco-watch

While residents of Kumarhatti are up in arms to save pine trees from being axed, some others in Shimla are deliberately choking the majestic deodars to build spacious homes, hotels and offices


Green Brigade
The timely action of villagers has saved over 60 pine tress from facing the axe during the illegal construction of a road in the reserved forest area in Banasar panchayat under the Dharampur block.

D(r)ying young
Amidst the tall claims of the government about saving the depleting green cover of the 'queen of hills'; hundreds of trees are suffocating to death.
Trouble for the big cat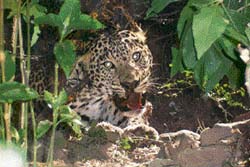 The leopard is on the verge of extinction due to negligence of the authorities and poachers' greed. Ambika Sharma reports from Solan
With an alarming increase in the number of cases of leopard poaching in the region, questions have been raised over the working of the forest department. While, as many as five such cases have come to fore in past seven months; the recent seizure of two leopard hides has further indicated the rate at which the leopards are facing threat.
Solan's water woes to end in Oct
Work on the Giri water-lifting scheme is on at a war footing. The Rs 51.46-cr scheme will meet the water requirement of Solan town and 114 villages under the Dharampur and Kumarhatti areas. The scheme, planned in 2003, is expected to start functioning by October 2.