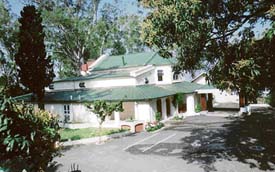 Vignettes
Old is truly gold
There's no way to reach the balcony over the portico at the new Nahan Circuit House! When Raja Karam Prakash founded Nahan in 1621, a notorious dacoit named Bera was ruling the roost in the Shivaliks.



Old Circuit House

Laughing away to small screen
Gautam has the unique ability to laugh away the blues
Hoshiar Singh Gautam, who is quietly making a place for himself in TV film and serials, has traveled a long way from village Ram Lilla stage to the tinsel town.

Hoshiar Singh Gautam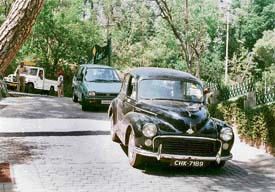 Fun Ride
Driving is fun, especially when one can sit back and admire the bountiful natural beauty of the pine whipped hills, the serpentine roads, steep cliffs and deep gorges, instead of maneuvering the steering.




MEAN MACHINE: Vintage cars came out on the road for Baisakhi.
The man-monkey ratio in the state is 18:1
Invasion of the highways
The efforts of the state forest department to make feeding of monkeys a punishable offence has helped little in deterring the people from indulging in this habit. The step was necessitated after the monkey population registered a sharp rise on the various National Highways.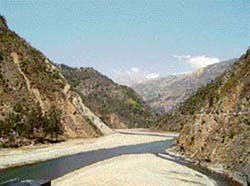 It better be good
As Renuka Dam project awaits the Centre's approval, villagers get ready to fight for their rights
S. R. Pundir
Work on much-awaited Renuka Dam project has not yet started. Residents of Renuka valley, who have been waiting for the past 20 years for the project to start, are now frustrated.



The proposed Renuka Dam site near Dadahu.


50 more schools in Nerwa and Chopal come under Pustak Project
The number of government primary schools being covered under project Pustak in Himachal is likely to go up to 100 as 50 more educational institutions in Nerwa and Chopal are being brought under the project.


Children read books at one of the libraries set up under the project.
Shimla Diary
Taxi drivers get more time to install meters
The deadline to implement metered-taxi scheme now has shifted to April 24 from April 11. The government had notified the scheme almost six months back and also fixed the tariff to save the tourists from fleecing at the hands of taxi operators.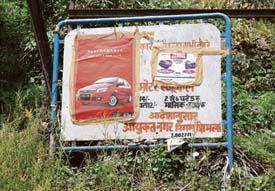 Tourist-unfriendly
Tourists are not harassed and exploited by taxi operators alone. Those driving down to the hill capital are being fleeced. With very few hotels offering parking, tourists either park vehicles along narrow roads and end up being challaned or in authorised parking lots run by the Municipal Corporation.


Nothing official about it: The illegible parking lot board.
Roping in the lifetime award
Ramesh Kumar Garg, chairman of Asia Resorts Ltd, has given with Life Time Achievement Award from the Ministry of Defence. Governor V. S. Kokje gave way the award to Garg during a function held in Shimla recently.