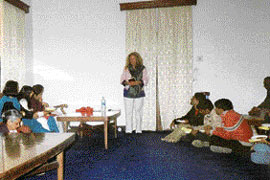 vignettes
Slice of Australia
Kristy Murray and Ken Harper talk on children's literature, community drama
It was an interesting evening at the guesthouse of the Indian Institute of Advanced Studies where two literary luminaries Kirsty Murray and Ken Harper from Australia spoke on the present scenario of children's literature and community drama in their country.
Sustainable development
The Institute of Vocational Studies, Master of Tourism Administration at the Himachal Pradesh University organised an international conference on cutting edge research, challenges and new direction in tourism.
Relief for food 'vulnerable' sections
There is good news for the food vulnerable sections of Shimla. The Food and Agriculture Organisation (FAO) will be now providing financial assistance to Shimla for improving the means of livelihood of the identified sections exposed to food insecurity.


Vanishing act
Jersy, Holstein and Red Sindhi are fast replacing local-bred cattle at the Nalwara fair at Sundernagar
The weeklong Nalwar Fair that was in full swing at Nagaun Khud, Sundernagar concludes tomorrow. One of the premier cattle fairs of the region, though the fair has picked up trade in last two years, the native sturdy pahari livestock including cows and bullocks still face extinction.
Copy right?
The ongoing campaign by the Himachal Pradesh State Education Board (HPSEB) to check the growing tendency of copying in school exams through strict measures has started a new debate in Hamirpur. The very means of tackling the problem are now being questioned.
shimla diary
A season of attacks & counter-attacks
If the BJP is using the charge-sheet against the government to pin down ministers and other Congress leaders, it is the letter written by four ministers and three MLA's of the BJP against their own government which is coming in handy for the Congress to turn the table around.
Adventure and eco-tourism are the latest buzzwords in the tourist's itinerary to the 'original God's own country' or the 'Dev Bhumi' which is finally waking up to tap its unrealised potential as a big-time tourist destination. So far, tourism in the state has generally revolved round Shimla, Kullu-Manali, Dharamshala and Dalhousie, which has led to overcrowding of these destinations during the peak season.
Camping at Khajjiar
Erosion check on Shiwalik river catchments
The catchments of the rivers in the Shiwalik ranges of Himalayas are among the severely affected. With an erosion rate of 80 tonnes per hectare annually, the problem requires urgent attention. The acute problem is apparent from the large-scale terrain deformation brought about by severe gully erosion, landslides, silting up of rivers, lakes and reservoirs.