Corridor of woes
The state is still not equipped to handle the influx of industrial units
Despite attracting an investment of about Rs 20,000 crores after receiving the central industrial package on January 7, 2003, the investors in Himachal have been made to run from pillar to post to avail even the basic facilaities like power and telephone connections.


Vignettes
Free-flowing beauty
I start with a quotation of WS Landor, "Nature I loved, and, next to Nature, Art." An artists desire is to have an exhibition of his creations amidst the free flowing natural beauty of Shimla. History supports it and speaks of The Fine Arts Society formed in 1865.


H.C. Rai and Surjit (Shimla artist) with Shiv Singh (turbaned) from Punjab


The ugly side of Sundernagar
With a large number of caves, temples, wildlife and nature reserve, Sundernagar makes it an ideal location for an eco-friendly IT park or a planetarium or a botanical treasure house to attract tourists. But sadly, Sundernagar does not have even a sign-board in the name of tourism. Small wonder the "lime stone lobby" is luring politicians and transporters to set up a cement plant near here, which will spoil Sundernagar's tourism potential.


Road to

nowhere


Kamli near Parwanoo has developed as an industrial area over the years; the village witnessed a healthy industrial growth after land shortage at Parwanoo proved a major hindrance in housing new units. Around 15 units have already been set up in Kamli and many more are in the pipeline. Also, 30 industrial plots have been earmarked by HIMUDA at Khareen village near Kamli, for new units.
Check on cheating
In a press conference held at Nahan, B.R. Rahi, Chairman of HP School Education Board pointed out that in the previous academic session a total number of 890 checking assistants in Himachal were enrolled with the assignment of evaluation of answer sheets and 317 evaluators were alleged to have carried out serious irregularities.
White Revolution sweeps across Solan
Solan has granted Rs 8.86 crore under the milch cattle improvement scheme started by the Centre. Out of it, Rs 2.82 crore had already been used till the end of last year. Giving this information, Rajesh Kumar, deputy commissioner, Solan, said the aim behind the scheme was to enhance milk production in the district. He said stress was being given to improve the quality of milch cattle and for that scientific methods were being used to provide healthy fodder to cattle.
Safeguarding the environment
"Women and children should be in the forefront to save the planet under the eleven-point programme to combat climate change", said Dr Madhav Mehra, President of the World Council for Corporate Governance, while interacting with environmental scientists and representatives of various NGO's at Palampur, last week.
Shimla Diary
Lean year at IIAS
Academic activity in the prestigious Indian Institute of Advanced Study here was revived after a gap of more than a year with the holding of a seminar on "Lord Buddha and His Universe" early this week.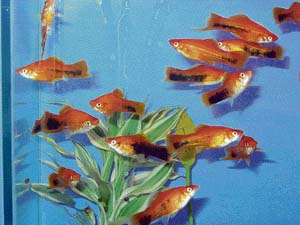 Nothing fishy about it
After the success in trout farming, the state fisheries department turns toward ornamental fishes, reports Pratibha Chauhan
After emerging number one producer of trout in the country, the state fisheries department is now venturing into the arena of breeding ornamental fish, much in demand for aquariums. Encouraged by the success of the experiment of breeding ornamental fish under controlled conditions at its farm at Ghaggas in Bilaspur district, the government now intends taking to their breeding in a big way.
No cure in sight
The move of the state government to convert the single-member Drug Licensing Authority into a three-tier system may spell doom for the multi-crore pharmaceutical industry with the latter threatening to shift to Uttranchal.
Head turner
Luri hydroelectric project on the Sutlej will be the region's longest and the Asia's largest head race tunnel. The length of the head race tunnel increased to 38 km is the longest in the Himalayan region and its diameter of 11.75 m makes it the largest tunnel in Asia.