SHIMLA Diary
The lure of gold
Money is no bar for art afficionados. Tanjore gold-leaf paintings that come with an astronomical price tag are selling like hot cakes in the hill capital
The ongoing exhibition of artifacts from Tamil Nadu here is attracting big crowds. Tanjore paintings depicting deities like Tirupati Balaji and Lord Ganesha are hot favourite among the buyers. And price is not a deterrent for art aficionado.
Unplanned building continues unabated
Palampur, Baijnath, Paprola: Waiting for disaster to strike?
Despite the fact that Palampur falls among the most sensitive earthquake-prone areas of the country, the haphazard and unplanned construction of residential houses and buildings has been going on unchecked.
Itís high time, freeze land use
PECULIAR CHAOS: As NHAI is acquiring land for four-laning of the Kalka-Shimla highway, the government is busy granting permission to builders for new projects Ambika Sharma
This is a case of right hand not knowing what the left hand is doing! A chaotic situation dominates Kalka-Shimla National Highway.
Kullu experiences spiritual bliss
Thousands made a beeline to Dhalpur Maidan to seek blessings from Sri Sri Ravi Shankar
The historic Dhalpur Maidan, venue of world-renowned Kullu Dasehra was in a state of spiritual euphoria last week. The guru-founder of Art of Living (AOL), Sri Sri Ravi Shankar cast his magic spell on followers, including politicians and dignitaries from the state.


No time to grieve
Life falls apart for kin of I&PH employee electrocuted on duty
While chief minister Virbhadra Singh was launching a job guarantee scheme in Nurpur, Bishambar ó a Class IV irrigation and public health employee ó was battling for life. He had been working after office hours on the night of April 10, ahead of the CMís visit, pitching up flagpoles on the roadside.




The family of Bishambar Lal (inset)
Tele-trouble
The increasing number of cases of telephone cables theft has given way to a new flourishing business for the thieves; they make thousands of rupees by selling several kilometer long cable wires.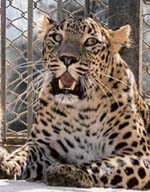 The big fight
Man vs Leopard
The forest dept is on its toes to look for a solution to the cat menace in the state. Rakesh Lohumi reports
Killing the big cat will not provide respite to the villagers but only bring more trouble -This is the central theme of the strategy being worked out by the forest department to control the increasing humanĖleopard conflict in the state.
Bear with us, please...
There has been no decrease in the sale of animal organs in the region, despite endless campaigns being held to highlight the issue of cruelty towards wild animals.
A cry for peace
Strife between locals and Tibetans is not uncommon in McLeodganj Kulwinder Sandhu
The scuffle between a group of local taxi and auto-rickshaw operators on one side, and a few Tibetans on the other; led to widespread protests and unilateral boycott of Indian hotels, shops, taxis and auto-rickshaws by the refugee community.
Whatís your choice?
Rapid industrialisation has opened job avenues for the youth but are they geared up to take the challenge? Kuldeep Chauhan finds out
Two job melas organised by CII at Mandi and Solan have exposed that not only there are chinks in the supply and demand of manpower in the industrial sector, but also the rigid mindset of youth who still prefer government jobs.