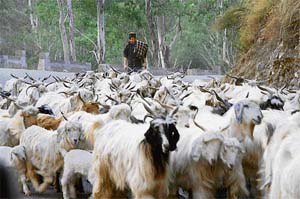 Vertical Limit
As development encompasses the higher reaches, nomadic sheep rearers are forced to come down to valleys
With the onset of the winter season, Gujjars, Gaddis and other nomadic sheep rearers have started descending from the alpine pastures to the valleys below. A Gaddi moving along with his flock of sheep and goats is a common sight these days in the interior areas of the state. However, it also draws the attention towards the problem of soil erosion in the fragile Himalayan ranges.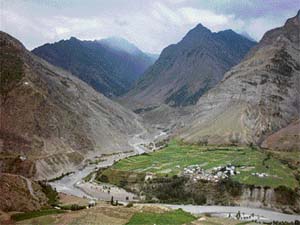 Lahaul
Nothing Tribal About It
Apple orchards, highest per hectare yield of potatoes in Asia, modern architecture... Kuldeep Chauhan on the valley's transformation
APPLE orchards, tin-roofed houses, poplar trees, dal makhani & butter chicken, receding snowline, growing tourism and prosperity... that's the all-new Lahaul Valley. Snowbound, landlocked and home to Buddhist, Hindu & Tibetan cultures, this land of gods and monasteries is getting a makeover. And once the all-year, 8.8 km Rohtang tunnel is thrown open in 2014, the "transformation" of this tribal belt – cut off from the world six months in a year — will be "complete".

A slice of Chitkul
A rag-tag settlement of 70-odd wooden houses and three crumbling temples, the sleepy village of Chitkul village was abuzz with excitement on a bright chilly November morning. Election fever was at its highest in the last and highest human settlement on the old Hindustan-Tibet trade road in Kinnaur's Baspa valley Chitkul on poll eve, Tuesday.

Local women put on their thinking caps to work out their game plan for the big day.

Icicles frame vernacular
architecture.

A woman walks her child to school
past election posters.

Flags of political parties add colour to the barren mountains.
vignettes
Diminutive & Charming
For Lieutenant White, Nahan is a bright white spot against the dark verdure of the mountains
The Himalayas have always attracted people to satisfy their urge for adventure or peace. Lieutenant George Francis White was one of the officers in the British Army who could not resist the pull of the mountains and undertook treks to Himalayan ranges in 1820-30s and brought out pencil-sketched views of India with copious notes and descriptions. Simla and Mussooree (Himalaya Mountains) by White printed in 1836 gives a description of Nahun, a 'diminutive, considered one of the best-planned and best-built cities in India'.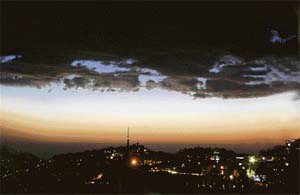 TWILIGHT ZONE: As the sun goes down in Shimla, winter clouds make a pretty picture.
Relics of the Raj
It is being felt that heritage conservation should not be confined to declaring a limited area as heritage zone in the summer capital of the British India, but the entire colonial Shimla should be protected as a valuable heritage.
Sold Out!
Outsiders buy private land along all major roads
PURCHASING land along major roads in Himachal seems to be the new hobby in neighbouring states. As benami deals flourish with overt connivance of revenue department staff, even land allotted to the poor has been sold out.
shimla Diary
In poll state, Diwali a damp squib
With a rather extended two-month campaigning, for the assembly polls due on December 19, the dust and toil is proving to be too much. To the extent that most of the politicians in the fray haven't been able to enjoy Diwali with the same fervour and enthusiasm.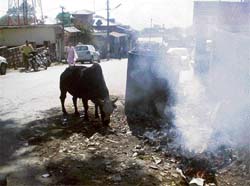 Household waste dumped in drains, garbage bins set ablaze; that's Dharamsala
Gasping for breath
Dharamsala, situated in the foothills of the Dhauladhar range, has a salubrious weather with lush green surroundings of pine and deodar trees and is acknowledged as the most sought after tourist destination in Himachal Pradesh.  This is the rosy side of the hill town that is the home of the Dalai Lama and the headquarters of the Tibetan government-in-exile.
What if Virbhadra doesn't return to power? Early election sends Sirmour residents in a tizzy
Promises meant to be broken?
Preponing of the state assembly elections has hit the hopes of Sirmour district's rural people. Development schemes worth ten crores, a degree college and ITIs and up gradation of over two dozen educational institutes announced by chief minister Virbhadra Singh during his recent visits to the district remain unfulfilled in the wake of election code.
Pinegrove celebrates annual function
Pinegrove School, Subathu celebrated its 17th annual day. The children put up a commendable display of gymnastics, parade with brass band, dandia, band music and other cultural items. Hindi play Bade Log, and science, arts and crafts exhibitions won the particular appreciation of the guests. The children trooped the school flag in a smart parade with the school brass band playing tunes like Sham bahadur and Sare jahan se accha. Akanksh Sen, Sifti Bajwa and Shikha Aggarwal of Class XII got a gold, silver and bronze medal, respectively, while Chirag Dawar, Pallak Sharma, Darpa Sehgal and Urvashi Shekhawat of Class X got gold, silver and bronze medals, respectively, for topping the boards.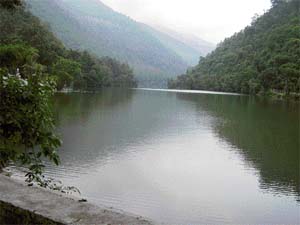 Not Fair!
Renuka tirth loses its charm to crass commercialisation
Renuka Fair is once again making news. This time the high court has come forward to save the ecology, religious and cultural sanctity of one of the biggest tirth of the North by ordering to stop all non-forest activities in the area. However, this biggest cultural and religious fair will start on November 20, on the eve of Devprobodhini Ekadashi, and will conclude on November 24 after Purnima Sanan in the holy lake as per tradition.
Dharampur cries for bus stand
The lack of a bus stand at Dharampur has become a major problem as over 500 passengers travel by bus between the town and places like Shimla, Solan, Kasauli, Subathu, Kunihar and Arki daily.
NIT to join hands with IBM
In order to promote long-term collaborative research, National institute of Technology (NIT), Hamirpur is all set for collaboration with IBM.