Cricket for a cause
Jagmeet Y. Ghuman
Far from the ongoing T20 extravaganza in South Africa, a different kind of cricket tourney was organised on Saturday in the not-so-cricket-crazy US. Indians, Pakistanis, Sri Lankans and Americans gathered to remember cricket lover Hitender Thakur, shot dead by black assailants on May 25 last year, and to urge the local police to trace his killers.
PWD starts work on Kalka-Shimla
overbridge
Jagmeet Y. Ghuman
Acting on High Court order, PWD has finally started the work to rebuilt the overbridge on Kalka-Shimla rail line. The bridge on Dharampur-Subathu road was closed down in January for vehicular traffic by railways. The decision came as a shock for the panchayats and also caused embarrassment to the army based at Subathu.
IEET students to develop softwares for BBNIA
Jagmeet Y. Ghuman
The Baddi, Barotiwala and Nalagarh Industries Association (BBNIA) has allotted two software projects to the students of Institute of Engineering & Emerging Technologies (IEET), Baddi.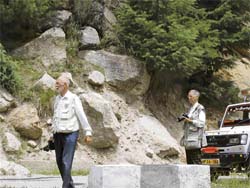 Miles to go...
This German couple simply cannot get enough of India. The doctors are back here for the 28th time
Jitender Kaushik
They don't like to be called tourists; they call themselves travellers. Roswita and Günter Müller, both retired doctors and professors from Germany, are in the twilight of their life, but they are on a world tour. From Hanover to Himachal, they have traversed about 30,000 km in their six-cylinder Unimog 435 Mercedes Benz, called motor home. Günter, a former radiologist, is 70.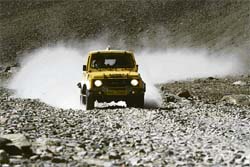 Time to Raid De Himalaya
The six-day rally will be flagged off from Shimla on Oct 2
Rakesh Lohumi
The hill state is gearing up for adventure. In the following weeks, the state will host three international adventure sports' events. To begin with, Raid de Himalaya, India's toughest and longest motor sport rally, will be flagged off from Shimla on October 2. Two days later, a mountain terrain biking event will take off from the same venue. Finally, a pre-World Cup paragliding event will be held at Bir-Billing in the Kangra valley.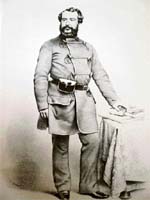 vignettes
Simla through a journo's eye
Shriniwas Joshi
When an uneasy peace returned to India after the First War of Independence, many firangi survivors of the mutiny arrived in Simla to breathe the mountain air and to give first-hand accounts of the violence or the risk on life that they had experienced. William Howard Russell, a famous correspondent of The Times and his friend, Captain Alison, also joined them to reach here on June 14, 1859. He wrote pieces in superb English from here, the style emulated by many a journalist of his times. A pleasing description of Simla at first sight is, "At a turn of the road, I catch sight of a conical hill, covered with a deluge of white bungalows, dominated by a church behind, and above which again rises a steep of sugar-loaf of fir trees.

Scout's honour
Hamirpur teacher represents India in an international scouts camp
Dharam Prakash Gupta
A scout from Government Senior Secondary School, Sera in Hamirpur, has brought laurels to the district by representing India in an international scouts camp in England. Priyadarshni, who teaches science, has just returned after attending the Centenary World Jamboree held in London.
No lure for investors
The rural areas in the state fail to attract investors despite making developments
Ambika Sharma
The efforts of the state government in promoting rural areas has failed to create an interest from investors. Areas in places like Mamlig (99.19 bighas), Vakna (51.03 bighas), Domehar (80.12 bighas), Manjhol (353.15 bighas and Banelgi (556.08) were earmarked to draw big industrialists, and though a number of investors evinced interest in a few sites, no one turned to invest in any of these areas.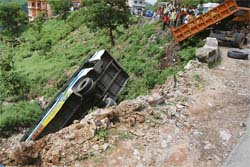 Fatal encounter
Jagmeet Y. Ghuman
The Kalka-Shimla National Highway-22 had taken four more precious lives last week due to rash driving. The deadly curves and dangerous points on the highway were equally responsible for the loss. Over the years, hundreds of people have fallen victim to fatal accidents. Traffic flow increases manifold on weekends when tourists make a beeline to the hills. Most of them are not very accustomed to driving in the hills.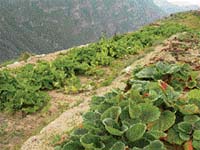 Nature's own
The herbal nursery in Pangi valley is a storehouse of medicinal plants
Balkrishan Prashar
The herbal nursery at Hudan Bhatory village in Pangi Valley is proving to be a cache of medicinal herbs. An initiative of the department of forests, this nursery has not only helped in cultivating herbs, but has also generated income for persons living in the tribal belts of the valley.
SHIMLA DIARY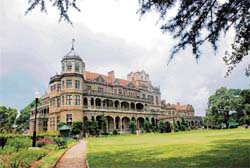 Son et Lumiere at Viceregal Lodge
With its imposing building, an architectural marvel of the British era, meticulously manicured lawns and well-maintained botanical garden, the sprawling Viceregal Lodge complex has in recent years emerged as a major tourists attraction in the capital. A visit to the historic heritage site is a must for every VVIP who lands up in the hill station.
Meritorious Service
Dharam Prakash Gupta
The National Service Scheme (NSS) volunteers at Hamirpur have been doing commendable work in the district. Besides campaigning for social issues, these volunteers have been doing manual work for brining a change in the rural areas.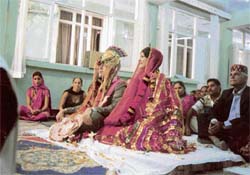 Knotty Affair
Cutting across caste, religion & creed, foreign nationals are marrying localites, for love, easy, simple living, drugs
Kullu, a tourist paradise holds multifarious attractions for tourists. Adventure sports activities like heli-skiing, mountaineering and white water rafting, cheap livelihood, peaceful environment and good quality charas. Notorious for drugs, the tourist spot is also a major centre for marriages between locals and foreign nationals.
A cry for help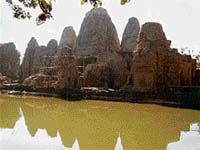 Devastated by the 1905 quake and neglected by the Department of Archeology, the century-old monolithic rock-cut temples of Masrur need strategic planning to restore their former glory
Kulwinder Sandhu
The famous monolith rock-cut temples of Masrur at Kangra are in the state of neglect for almost over a century. These outstanding pieces of architecture were damaged in a powerful earthquake that shook the region in 1905 that also claimed more than 20,000 lives.
Standing tall
Solan teacher bags national award
Ambika Sharma
Yudisthar Mehta, hailing from a non-descript village of Dharo-Ki-Dhar in Solan has bagged the national award for teaching this year. Belonging to a family of freedom fighters, Mehta entered this noble profession at an impressionable age of 19. He did his schooling from Fagu and Rajgarh.
Lawrence School wins declamation
Lawrence School, Sanawar, won the Inter School Hindi Declamation organised by its Faculty of Oriental Languages.