Respite for Nahan jail inmates
50 shifted to Shimla, complex to get new wing for 110 inmates by end 2008
S. R. Pundir
The state department of prisons has immediately ordered shifting of 50 inmates of the overcrowded Nahan Model Central Jail to Kanda Jail in Shimla. Last week, Himachal Plus had carried a story on over-crowding in the jail.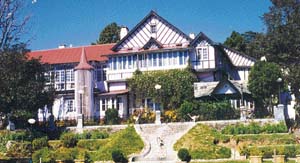 Barnes Court turns 175
Come October and a postal stamp, a souvenir, a band display and lots more will mark the celebrations of the oldest heritage building of the British era in Shimla
Rakesh Lohumi
I t is celebration time in Shimla as the historic edifice of Barnes Court completes 175 years of its existence next month. A series of events have been planned for October 25; a celebration which will be nothing less than a tourism festival.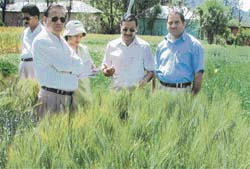 On a Roll
Kulwinder Sandhu
A new high-yielding and disease-resistant wheat variety HPW-251, developed by the wheat scientists of Palampur's Chaudhary Sarwan Kumar Himachal Pradesh Agricultural University, has been identified at the All India Wheat Workshop held at Pune a few days back. According to the director of the research Dr S.C. Sharma, the new wheat variety has been found suitable for cultivation under the early-sown, rain-fed conditions of the northern hill zone of the country.
STEP OUT
Tired of the rain? The beautiful & dry Ladakh is the place to be in
On a high
Yana Banerjee-Bey
| | |
| --- | --- |
| During the monsoon season, it is a good idea to escape to Ladakh.The mountains separating Ladakh from Himachal are so high that the monsoon clouds cannot cross them. So, even if the rest of India is awash with rain, the high-altitude desert of Ladakh remains dry. Ladakh is the tail end of the Tibetan plateau and its spectacular cold-desert scenery makes for a trip of a lifetime. You can go to Leh, Ladakh's main town by three ways. | Gautam Kuthari of Delhi mountain biking from Manali to Leh. |
VIGNETTES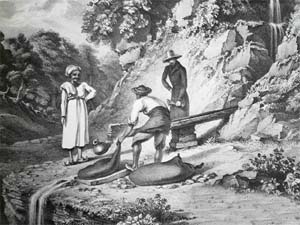 The Abode of White Godlings
by Shriniwas Joshi
If I start telling you a story of a kingdom whose capital was in a wintry place where there was no electricity, no regular water supply, and no proper roads or heating arrangements, you will zero in on a location in a long lost era. Could it be one of the Roman cities that you had seen in Hollywood films where the guards used to light the torches on the walls at the fall of darkness? And when I tell you that it was Shimla, the capital of India also called the abode of white godlings, you will start scanning the pages of history.

A 1903 vintage clock at Dharampur station lies dumped in the store
Watch out!
Jagmeet Y. Ghuman
Even as UNESCO is considering the Kalka-Shimla narrow-gauge railway tracks for the heritage status, a vintage wall-clock of 1903 make is lying unattended at Dharampur railway station since long. The railway staff is unmindful of its importance and has dumped it in the storeroom after it developed a snag.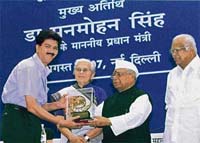 Baddi entrepreneur awarded
Ambika Sharma
A small sector industry in Baddi, Riddhi Packages was conferred with a Special Recognition Award (SSI) by the ministry of MSME last month for excellence in the industry. The award has come as a major boost for the unit, which was started in 1994 with a modest investment of Rs 40 lakh. Said unit's director Dinesh Jain," In the early 1990s, provision of benefits like income tax exemption, cheaper power and labour availability under the industrial policy helped attract investors to the state, which was industrially backward at that time."
shimla diary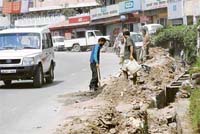 Chaos on Cart Road
Pratibha Chauhan
The digging up of narrow roads in the hills for the laying of cables can be quite a pain, especially when work is done at a snail's pace. The residents of the town have been facing a lot of inconvenience these days because of haphazard digging up of roads. The chaos at Cart Road is a good example. Commuters are stranded for hours on this road as the work has made it single-laned at several points. The problem gets aggravated as the entire traffic movement of the town is on this stretch, which is also known as Circular Road.

Technology untapped
Rakesh Lohumi
The implementation of the geographical information system (GIS) technology in forest management is facing hurdles. Says director general, Forest Survey of India (FSI), Devender Pandey, "A mismatch between notified forest land and existing boundaries, lack of standards, protocols for interoperability of digital maps and shortage of trained manpower are the main hurdles hampering the adoption of the technology."
Fine dine with aunty
Pratibha Chauhan
Even food connoisseurs would swear by the authentic Chinese food being served at the town's oldest Chinese eating joint, Aunty's Dhaba. This joint, which opened 32 years ago, is still the same and hasn't changed much in terms of its authentic cuisine or ambience. With practically no experience of running a business, young Shirley Chung, a Chinese from Kolkata, decided to open a joint and dish out her home recipes of authentic Chinese cuisine. Married to a Chinese, who owned a shoe shop in the town, Shirley opened her joint in 1975 and named it 'Aunty's Dhaba'.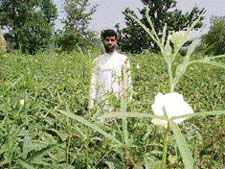 United we plant
Under the Mid-Himalayan Watershed Development Project, villagers are encouraged to form groups and protect the new plantation for the next 30 years
Rajiv Mahajan
The World Bank-aided ambitious Mid-Himalayan Watershed Development Project is playing a vital role not only in rural development but also in minimising adverse affects and changes of natural resources in the hill state. This project was launched in 2006 in 10 out of 12 districts of the state is covering 598 gram panchayats. As many as Rs 365 crore have been earmarked for the multi-faceted components of this project.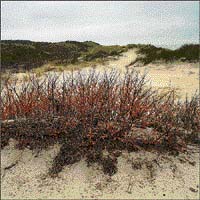 'Seabuckthorn needs special
attention'
Ravinder Sood
Seabuckthorn (SBT), locally known as charma has attracted global attention of  scientists,  environmentalists and industrialists due to the presence of vitamins in its fruits, leaves and bark. The medicinal values of this plant were discovered by Tibetan doctors in early 8th Century. However, the industrial utilisation of this plant was started in former Soviet Union, when Russian scientists discovered its rich vitamins values in 1940.